Written by K2 Base Camp Team Member, Kevin Reilly
Imagine you are out for a full day of scrambling and bushwalking. You started the hike early with a cool overcast day, but as you near the end of your adventure the weather has started warming up and you have run out of water!
On realising this, you get worried. Naturally, you know the importance of staying hydrated, even if you're not yet feeling the effects of a lack of water in your system.
Luckily, you know there is a water source nearby and you manage to make your way to it. Upon arriving, you find the water tepid, brown and it even has tadpoles swimming in it!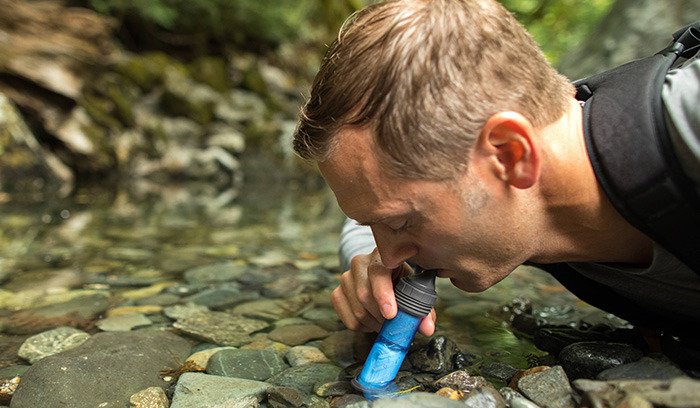 The question is, would you drink it?
I recently experienced this very scenario myself and used the opportunity to field-test the advanced LifeStraw Flex water filter.
Admittedly, the water was not a pretty sight when I arrived. However, with dehydration setting in I had roughly another hour to go until I could get to potable water.
How did it go? Well, apart from the water being warm it tasted great! The LifeStraw Flex did not let me down and got me out of what could have turned into a difficult situation.
While most water filter systems on the market address the issue of filtering bacteria and protozoans, LifeStraw takes things a step further in converting contaminated water into a drinkable option.
The Flex filter uses a hollow fibre membrane system coupled with a carbon filter, giving you clean and taintless water every time. It also comes with a syringe to backwash your filter, extending the life of the system, and getting you out of trouble if your filter clogs up in the field.
Best of all, the LifeStraw Flex lives up to its name and it can be applied in five different ways for maximum utility:
Combined with its collapsible squeeze bottle you can directly filter water or decant into other containers
Used as an emergency straw by itself
Integrated as an inline filter for a hydration bladder
Screwed onto a similarly threaded bottle head
Fitted with a LifeStraw Flex Gravity Bag 
LifeStraw produces several filtration products, both for personal and communal use. For over 20+ years, its parent company Vestergaard has worked closely with The Carter Centre (founded by former U.S. President Jimmy Carter) to rid the world of the Guinea worm disease.
This waterborne parasite can grow to a length of 120cm before deciding to leave your body, usually in an excruciating manner via your skin! There is currently no treatment available to prevent or heal the diseases. But through Vestergaard's LifeStraw® Guinea Worm filters, people in these often-disadvantaged communities can be ensured access to safe drinking water without risk of contraction.
If you are in the market for a versatile water filtration system, I highly recommend you check out the LifeStraw Flex and the rest of our hydration product range.