Written By K2 Base Camp Member - Carter Heading
Trail running's fast growth over the last few years has led to a huge increase in different products hitting the market, each offering something different.
Most trail runners these days will own at least one trail running vest. They are the best, most efficient way to carry one's essentials including water, food, mobile phone, keys, and even trekking poles.
What to look for in a trail running vest
A great trail running vest should be comfortable and not jiggle around when running. It should have an adequate storage capacity and be lightweight and durable. Picking an individual vest comes down to the personal preference of how you intend to use the pack.
If you need ample storage room, a 12L or 17L vest would suit. If you are looking at doing a smaller run and don't need as much gear/hydration, then the smaller styles of vests are for you. Picking the right running vest also depends on your body shape, as women's specific vests or slim vests are also available.
An Overview of Trail Running Vests
Every vest brand has its own set of specific features and designs, targeting a key area of what a good trail running vest should be.
Tried and tested by trail runners worldwide, these vests will help you carry all the essentials for your next run.
Best The All Rounder - La Sportiva Trail Running Vest
These La Sportiva running vests are engineered to facilitate adjustments to perfectly fit the body of the runner, which helps to keep the pack in place and avoid the rebound effect seen in other vests during the run.
The lightweight mesh on the vests makes them super comfortable and superior to other materials on the market.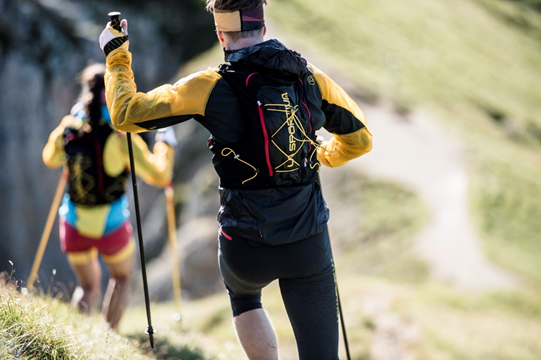 The rear compartments are spacious enough with ample space for a mandatory kit and more. The additional bungee cord on the rear of the packs is a personal favourite of mine, allowing for an additional jacket, down layer, or other gear to be stored outside the pack.
The front strap allows you to make the vest tight, while the lower red waist belt and two side red adjustable straps allow you to cinch the vest in allowing it to fit well, minimising bounce and movement.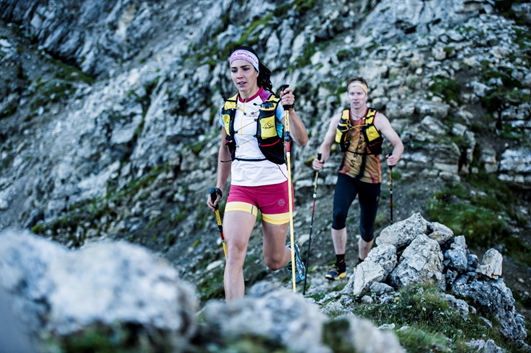 The spacious stuff pockets in the lower front are perfect for nutrition or your phone, and the two front hydration pockets are fit for two 500ml soft flasks (note: these do not come with the vest).
Overall, the La Sportiva running vests are great all-rounders and are a great start for those looking to buy their first running vest.
Best for Durability - Grivel Trail Running Vest
The wide range of Grivel running vests have been designed by experienced endurance runners. The key selling point on the Grivel packs is their durability. They aren't going to rip when you overcook a steep descent or go bush whacking on some old single track, unlike some of the more race orientated vest.
Alongside the durable fabrics, Grivel have opted for an adjustable 'one size fits all' using sliding joint pull tabs and velcro arrangement on the shoulders. These actually work very well and are solid in place once correctly set.
 You will end up with a slightly bulkier and heavier vest pack, however it is useful if you fall between sizes or wish to fit the pack over a winter running kit.
The Mountain Runner Running Vest (12L) was one of the original running packs designed by Grivel. Designed for multi-day races, with amble storage capacity for mandatory race gear and easy access pockets, this pack hit the market in 2014 and has stood the test of time.
The Mountain Runner Comp Running Vest (5L) was marketed as the little brother to the 12L, in that it was a smaller more lightweight version of the pack.
The Mountain Runner Slim Running Vest (7L) is specifically designed to fit slim bodies and women. Designed for short trail distances or for training, this pack is comfortable yet still practical in its storage capabilities.
The Mountain Runner Light 5 Running Vest (5L) is Grivel's lightest train running pack. Again, designed for short trail distances or for training, this lightweight pack will provide enough storage to hold your essentials but not be so heavy as to slow you down.
Best for storage - Ultimate Direction Adventure Vest
The Ultimate Direction Adventure 4.0 (16.4L) and 5.0 (17L) are super lightweight running vests.
 These vests use stretchy but durable materials and are often used as day packs or multiday race vests. The Ultimate Direction Running vests have a pocket specifically designed for a GPS device, ice tool holders, several zippered pockets to secure the essentials and the 5.0 even has an integrated rain cover.
Comfort Cinch technology provides a customised fit with quick and easy adjustment whilst running, however with such a large vest, you do not get the same close fit as you would with smaller models.
A 500ml soft bottle is included on the front with additional capacity for possible nutrition, a 2L bladder (not included), phone, camera, trekking poles, waterproof jackets and other mandatory or compulsory items. Making these vests perfect for multiday events.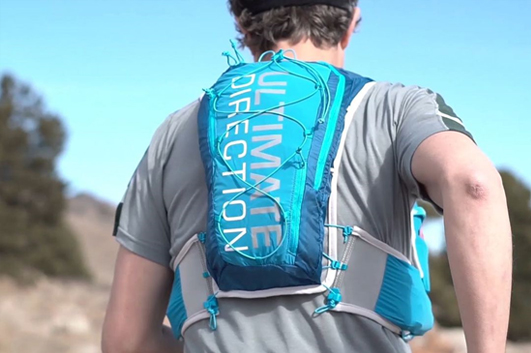 Best for Comfort- Salomon Trail Running Vest
The Salomon Adv Skin Series features 'Sensifit' construction offering a precise and comfortable fit. Coming in 5L, 8L (women's) and 12L capacities, these lightweight packs are incredibly versatile.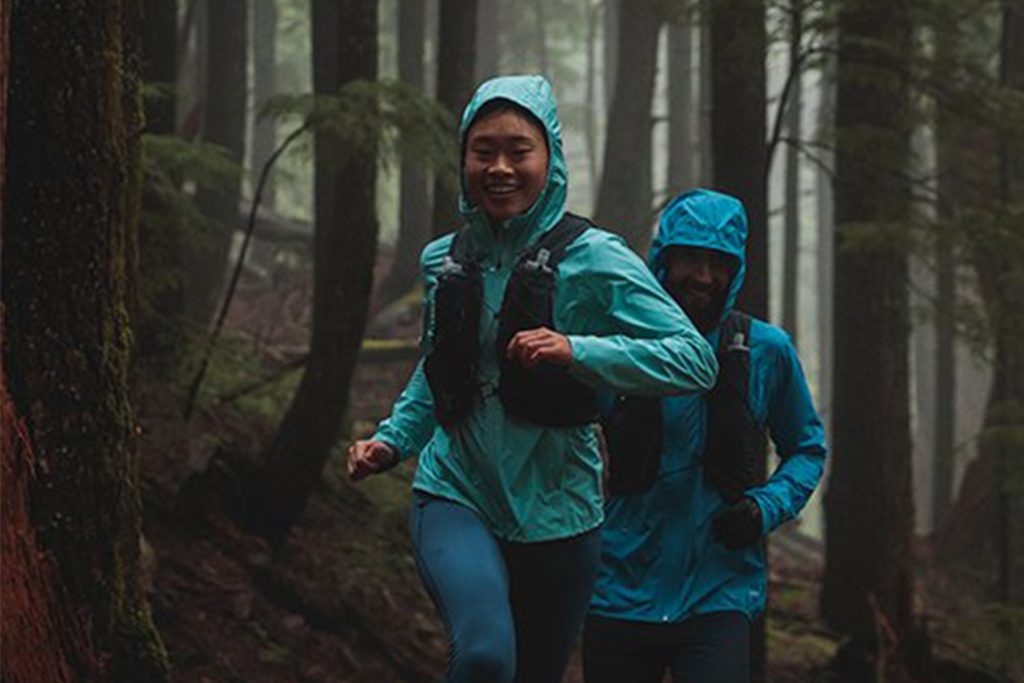 The elastic sternum-strap design allows for quick adjustments and connecting your vest quickly while on the move.
These packs come with two 500mL soft flasks, who's design will stay balanced as you run, with zero sloshing or bouncing. With multiple stretch pockets and compartments these packs are designed to carry all your essentials comfortably and with easy access. The advance skins are also fitted with an insulated bladder pocket for those who wish to carry more water.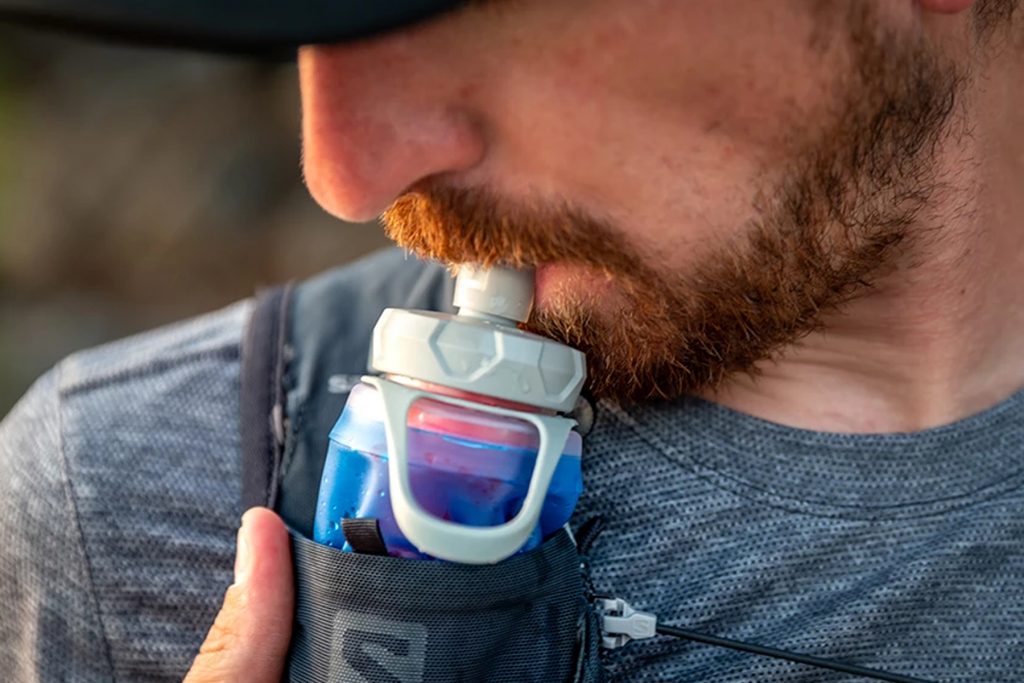 The Salomon Adv Skin range is incredibly versatile and suits those looking to buy a super comfortable and reliable running pack.
Best for Women -– Osprey Trail Running Pack
The Osprey Duro 1.5L and Dyna 6L are small and compact women's running packs designed for shorter runs. Available with a 1.5L reservoir (bladder) or soft flask these packs are a good start for beginners.
With all the classic bells and whistles (quite literally this pack does have a whistle), this pack can carry hydration gear and any other essentials in its zippered pockets. With a breathable mesh back panel that complements Osprey's larger hiking packs, as well as its adjustable and removable dual chest straps for stability.