Love 'em or hate 'em, hiking poles are one of the many tools for the outdoors. To some, they have a stigma of being 'old people's poles'. To others, they are an essential piece of their hiking kit.
There are several types of hiking poles to choose from. This includes folding, telescopic, twist lock, clip lock and anti-shock. Poles are generally made of either carbon fibre or alloy, with their own pros and cons.
Carbon fibre poles are lighter but can shatter when put beyond their limits. While alloy poles are generally more robust, heavier and tend to bend rather than shatter.
The most important thing with poles is the handle grip, they must be comfortable to use. Can you imagine walking for hours with handles that cut into or blister your palms? It's vital you test a few handles out, to make sure they suit your hand shape, hiking needs and size. Hiking pole handles are made from materials such as cork, rubber, or foam. But the best material for you will depend on your climate and hiking needs.
For example, cork is great for grip in warmer climates as it wicks moisture and moulds to your hands easier. But rubber can insulate your hands from the cold and is perfect for cooler climates.
Folding poles are tent-pole like and are often fixed in length. So, care must be taken when purchasing the right size. They also compress smaller than telescopic poles which takes up less room in your pack!
The Black Diamond 'Distance Carbon Z Trekking Pole' and our Masters 'Trecime Aluminium Hiking Pole' are great options if you are looking for folding hiking poles. Additionally, K2 Base Camp's range also includes folding poles specifically formulated for women such as the Leki 'Micro Vario Womens Hiking Poles'.
Telescopic poles are one-size-fits-all. They contain three sections that slide into one another like a telescope and interlock when fully extended. The telescopic hiking poles generally have two different locking systems, twist, or clip. Both are effective, but you need to take care with the twist system. Ensuring you do not pull the pole sections out too far, or they can break as they are not made to be over-extended. Alternatively, the clip lock systems are fast. Allowing you to pull the poles apart to clean them properly.
However, these additional internal components mean telescopic poles often weigh more than folding poles. Though the sheer convenience of this pole type often outweighs concerns surrounding this added weight.
The telescopic pole type is also extremely versatile due to its compact size and adjustability. As they are easily adjustable, they can change to suit different hiker's heights and varying terrains. For example, it is recommended you increase your pole length when descending while shortening your pole length for going uphill.
At K2 Base Camp, our range offers a wide variety of telescopic hiking poles to suit your needs. This includes trekking poles such as the Masters 'Eiger Calu Pair Hiking Poles' or 'Dolomiti GT Calu Pair Hiking Poles'. Additionally, we also offer telescopic trekking poles formulated for women and smaller hands, such as the Leki 'Cressida Womens Trekking Poles'.
Poles, when used correctly are an asset to your bushwalking. Hiking poles are typically used for hilly treks and mountain trails as they provide support up and down hill.
Using two poles provides hikers with four points of ground contact, offering better balance on your terrain. It also allows for more power and endurance, particularly in an uphill stretch. Additionally, hiking poles can help you traverse ice patches, flowing water or uneven stretches with ease.
Hiking poles when used on the flat can increase your walking speed by up to 25%, enabling the hiker to move quickly along the trail. Trekking poles can also protect your knees and joints by offering extra support. Even saving your knees up to 70% of joint pressure on downhill sections. Importantly, trekking poles also protect your back, by improving your hiking posture.
Using poles while hiking also provides your arms with a workout too, as it takes the strain off your knees and back. This can also help in keeping your hands from swelling and encourage better circulation, by elevating them while on your hike.
Finally, hiking poles can double as tent poles. Plus, they're useful at dispatching unwanted visitors along the trail or at your campsite! They can also be used to test ice patches or water depth.
While hiking poles are great to help you stay upright if you are in a situation where you are 'beyond the point of no return' (aka falling), it's important to get rid of your poles quickly! They are not designed to break your fall so they can be very dangerous in these types of situations.
They are even known to have impaled people in the past hence many hikers opt to not have straps on their trekking poles. As humans, we automatically put out our hands to break our fall. So having your hiking poles attached to you is a recipe for disaster!
Some hikers have also found that as their blood sugar levels drop over the course of a long hike, their grip starts to loosen. Without hiking straps, this provides a great indicator that it is time to stop and have a snack. Keeping the higher vigilant and focused.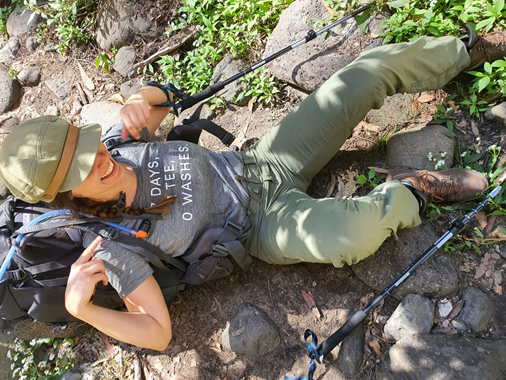 Hiking Pole Maintenance and Care
If you decide to make the investment in a pair of hiking poles, it is vital you take good care of them. Keeping your trekking poles clean is an absolute must, and this includes regular maintenance.
When out hiking your poles can easily get grit and dirt in them. But without a proper clean, and over the course of time this can jam them up. Sometimes even stop the folding, locking or adjustable mechanisms from functioning correctly.
Not only will this reduce the longevity of your hiking poles, but you cannot make a warranty claim. This is because it is negligence on your part. Folding poles are susceptible to this problem, so this is an important factor to consider when deciding to purchase hiking poles. However, a quick wipe down and clean should only take a couple of minutes. So, this common issue is easily preventable.
Overall, with proper care and use, trekking poles can be a great benefit to your bushwalking or trail running. From protecting your knees, back and other joints to improving your endurance and speed while out adventuring. If you're looking to take your hiking game to the next level, or prevent joint issues in the future, a good pair of hiking poles is essential to add to your hiking gear!
At K2 Base Camp, we stock a variety of professional hiking poles and accessories from world-renowned brands you can trust including Exped and Masters. Explore our collection online or in-store today.
Or, if you would like to know more about our hiking pole range, don't hesitate to visit us in-store or phone our friendly team! Our experienced staff are experts in this field and can help find the best pair of trekking poles for you.