Written by K2 Team Member, Kevin Reilly
Hiking Logan's Ridge at Mount Barney
We're a lucky bunch here in Brisbane. We have so much nature, national parks, and trails available right at our fingertips. A great example of this is Mount Barney. Just a 90-minute drive from Brisbane and located in the ruggedly beautiful Scenic Rim region, it is a beautiful part of the world to explore. Mount Barney is also the 4th highest mountain in Queensland and really punches above its weight!
Mount Barney is a great spot for day or overnight hikes, depending on your preference and experience. There are many options for accommodation too, such as camping within the National Park in designated areas. However, be mindful these sites tend to have a very basic set-up, with some even requiring you to bring your own water.
The most important part of Mount Barney, however, is that it requires a lot of respect and planning. The size and skill level required for these trails can often be deceiving. But if you're not prepared, Mother Nature can really turn around and bite you!
There are several ways to summit the two peaks of Mount Barney, all of them require good planning and a decent fitness level.
Reaching the Summit via Logan's Ridge
My last summit of Mount Barney was up Logan's Ridge. If you're looking at the East face of Mount Barney, it's the razorback route on the right-hand side. The opposite side is the Southeast Ridge, with Peasants (South) Ridge to the left of it.
Logan's is the most challenging of these three routes. If you don't have much experience rock climbing, I would recommend having experienced people with you that can ensure you have a great ascent. A good pair of approach shoes also goes a long way in improving your grip in tricky ascents.
Lucky for me I went on this trail with two very experienced climbers. So, they really took the stress out of the difficult bits! If it is your first time attempting this summit, I would recommend bringing a friend who has experience with this trail before attempting this solo.
In my case, when accenting Logan's Ridge, I used a climbing rope in three different sections. But this can vary with your experience.
We completed the ascent in mid-summer which is probably not the best time of the year to do this sort of activity. This simply comes down to the harsh heat of the sun during the summer season in Queensland. But it does give you more daylight if the going gets slow.
A tip to avoid the harshness of the sun is to leave camp early. We left camp at 5am and luckily for us, there was low cloud around the peaks. This meant for a cool start. We didn't get any of the heat until just before we summited the East Peak. Once on top we were rewarded with stunning 360º views.
From the summit we dropped down into the valley between East and West peaks to the Saddle (Rum Jungle). This is a lovely tree area, where we had lunch. Camping here is permitted and there is a semi-reliable water source available. This is a great spot to fill up your water bottles or bladder, re-apply sunscreen, and rejuvenate before finishing off the descent. A water filter is also handy here to ensure the water is safe to drink.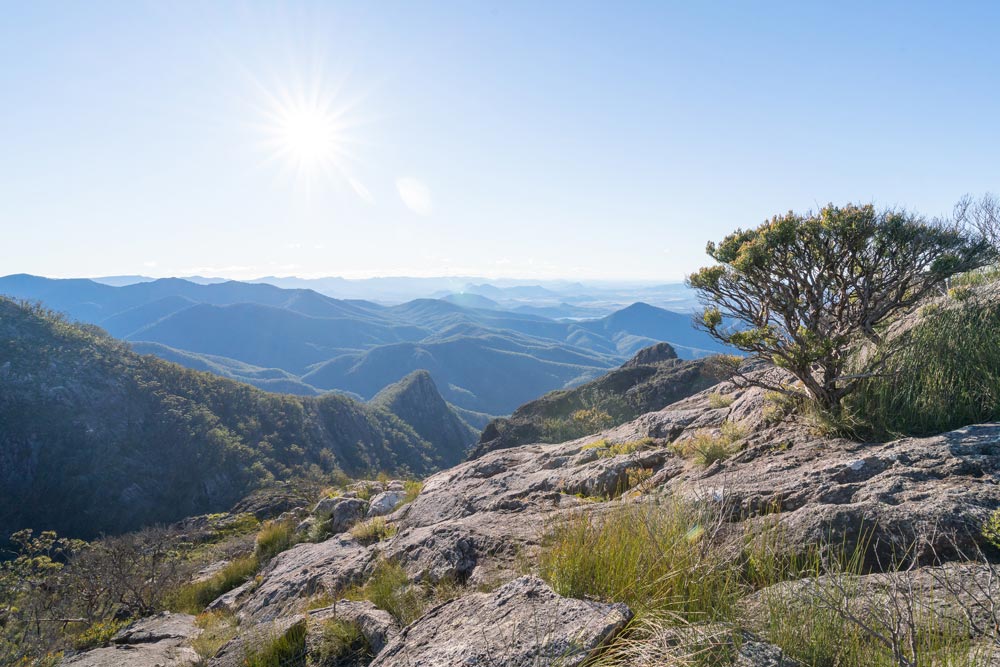 After lunch we descended Peasants (South) Ridge of Mount Barney. This is the easiest of the three routes. In our case, there was a lot of scree and loose boulders to slow things down, so this is something to keep in mind.
Mount Barney was affected by the bad bushfires through late 2019 to early 2020, so the canopy has been severely damaged by this. As a result, it can make for a hot and sooty descent.
I subsequently ran out of water before we got to the bottom (I took 4 litres). Luckily there was water at a stream and my trusty Lifestraw Flex water filter came to the rescue! The water may have been hot, stagnant and full of tadpoles, but once filtered it was absolute gold.
K2 Base Camp also stocks a wide range of quality hydration bladders and drink bottles to carry plenty of water supply on you. 
At 4PM, we finally made it into camp very tired, very dirty, and ready for a cold beer!
Overall, it was a long day, and my two companions were absolute champions! They were very helpful, patient and allowed me to tick off another ascent up Mount Barney.
Can you camp at Mount Barney?
Yes, you can camp at Mount Barney. However, these campsites are very basic, and you are responsible for your own water and toilet. There are no open fires permitted here either.  
If you do want to stay right at Mount Barney, you can book this accommodation via the Queensland Parks website here.
However, I prefer to stay at the Mount Barney Lodge. While this option is slightly more expensive, you are provided with a more equipped campsite. This includes an amenities block with hot showers as well as the ability to have an open fire. It's also nice to support a local business. If this option is something you are interested in, you can book on their website here.  
What hiking footwear is best for the Scenic Rim & Mount Barney Trail area?
Footwear is very important and soles with better grip will give you more confidence when trekking at Mount Barney. But be careful on the slab sections and rock chimneys.
I used the Asolo Space Hiking Shoes, during my climb, and they were just magic! La Sportiva TX4s Approach Shoes are also the go-to shoe of the local guides if you are looking to invest in a robust shoe.
Do I need hiking poles for trekking Mount Barney?
I am an avid pole user, but I do not recommend them for Mt Barney. As the trail has a lot of scrambling and steep sections, both uphill and down, this means you are using your hands a lot. Hiking poles would only prevent you from climbing with ease and may be more effort to carry than effective for this climb.
Learn more about deciding on which hiking poles is best here.
What is the ideal clothing for hiking Mount Barney?
Mt Barney can get cold in winter with an average minimum of -4C, so I would be careful with my choice of hiking clothing.
If the weather is clear, your ascents and descents will be normally quite warm. I recommend using a layering system, to ensure you are at optimum working temp at all times. This could include a base layer singlet or long-sleeve, with a t-shirt over the top and a jumper.
It can also be cold, windy and at times wet, in exposed areas, especially when you stop, so be prepared to adjust to the conditions and take good rain gear. K2 Base Camp stocks a great range of quality weather-proof jackets, perfect for this climate.
During hotter weather a decent hat, sunglasses, buff and wicking long sleeved top are must-haves. These will protect you well against the elements and help keep your water loss to a minimum.
Before your trip, I would recommend monitoring the weather so you can ensure you are bringing clothing that is appropriate for your hike.
Do I need a PLB (aka. Personal Locator Beacon)?
I wouldn't leave home without one! There are a lot of rescues at Mount Barney, every year. The better prepared you are, the quicker things can be sorted. Depending on where you are, your mobile may or may not work so I cannot stress how important a PLB is.  Mount Barney is not a big area, but it is easy to get lost and end up in trouble. Don't aim to be a statistic!
The K2 Base Camp stocks the ACR 'ResQLink 400 Personal Locator Beacon' which is a great option if you are yet to invest in a PLB.
But if you are feeling hesitant reach out to the wonderful team at Mount Barney Lodge who run guided hikes. Alternatively, if you're picking up some equipment or clothing from K2 Base Camp before your adventure, the staff there are great at providing some tips and tricks for this trail.
Google can also be your friend here. The Secrets of the Scenic Rim is another great resource, showing all the ascents and tips on enjoying the area.
Our Top Tips For Hiking Mount Barney in Summary
Invest in a big drink bottle that can keep your water cool
Bring hiking shoes as some sections of the trail have loose rocks
Bring hiking ropes to help with descents along the trail
A personal locator beacon (PLB) is recommended for personal safety
If possible, bring a water filtration system to ensure the water is safe for drinking
Ensure you pack snacks, sunglasses, sunscreen, and a hat
Check the weather before you go and pack your gear accordingly
Hiking poles aren't recommended for this type of summit and trail