Written by K2 Customer - Jared Clark
Like any good review, this one starts with a ripping noise coming from the crotch of a pair of cotton capris while scrambling.
Yes, what was I thinking? I know, I know.
But in my defence, pants at the time were just pants and style didn't matter. Practicality was definitely not something worth investing more than $50 into. Fast forward a couple of years later and I now own four pairs of prAna pants, including two pairs of the Stretch Zions. Each pair serves a variety of outdoor and fitness purposes, and have gone beyond this into much of my everyday wear.
Well, back to that fateful day of when I split my pants. I exposed my bright blue briefs to the world, with each leg-raise further up the mountainside bringing with it the unmistakable sound of another dreadful rip. This continued inch by inch until the tearing finally stopped as my flexibility maxed out. While the tear itself couldn't get worse, the humiliation continued for 45 more minutes during the scramble and down-climb; followed by another 20-minute hike back to the car on a busy tourist track—briefs and thighs on show for all.
"Never again," I said.
I went home and began my research, with all my inspiration drawn from that single experience I was determined never to repeat.
After such an event, it's no wonder that prAna Stretch Zions were the pair of pants I purchased. This is for the simple reason that they have been the long-time go-to for many climbers. I went indoor climbing in them at first and my life permanently changed that day. I could never go back.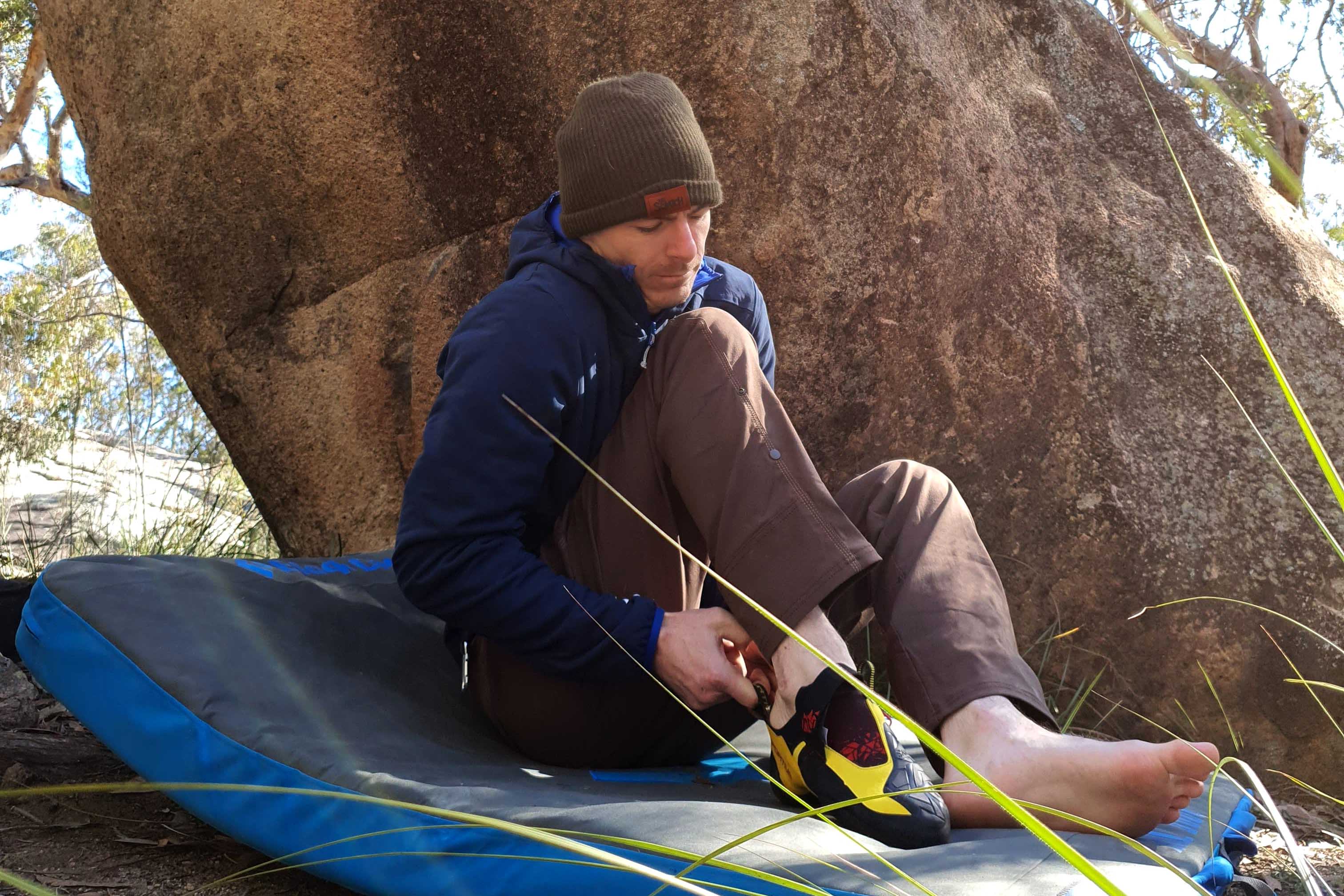 Stretch Zions are super light and breathe very well. They have three subtle breathing holes in the inner-thigh areas that end up sitting above the leg-loops of your harness. When a foot bridges across to a distant hold and you find yourself doing the splits on an almost negative angle, it's almost an "Ow! Ow! O-... Oh, that's pleasant…" -type feeling. This is one of those little things that shows just how much thought prAna has put into its product design.
But what about climbing in summer? Well—and this is my favourite feature – they roll up and button up into ¾ length convertible pants. You can even roll them past this up to knee-height and they'll stay. This also makes them fantastic for roof climbing where heel-hooking in pants can sometimes be ruined by catching a bit of cuff between the shoe and rock. With Stretch Zions, you can just roll them up and get that problem out of the way.
You can choose to wear a belt if your body type needs one, but other than that, Stretch Zions come with a flat tension strap for fastening. I save those belt eyelets for clipping my shoes, water bottle, or chalk bag to when bouldering and moving around. This also means they don't produce that annoying up-and-down movement conflicting with a harness.
The Stretch Zions generously come with five pockets, all very well thought out. The side pockets are nice and deep, but not so much so you'll lose your hand in them trying to find your keys. They're also made from a soft but tough mesh that helps with breathability. The mesh is also tight enough, that small or sharp objects won't get the opportunity to pierce a hole through.
On the left leg below your harness leg-loop, you'll find one of the greatest pockets ever designed. This is a nice, wide and deep cargo pocket for maps, guides, phones, buffs, gloves and anything else you might want to carry. Best of all…. all zip secured. Not only is there a regular top zip for standing folk, but there's also a side zip on the inside to easily access everything that way. Getting to your phone to take a hangdog selfie is that easy.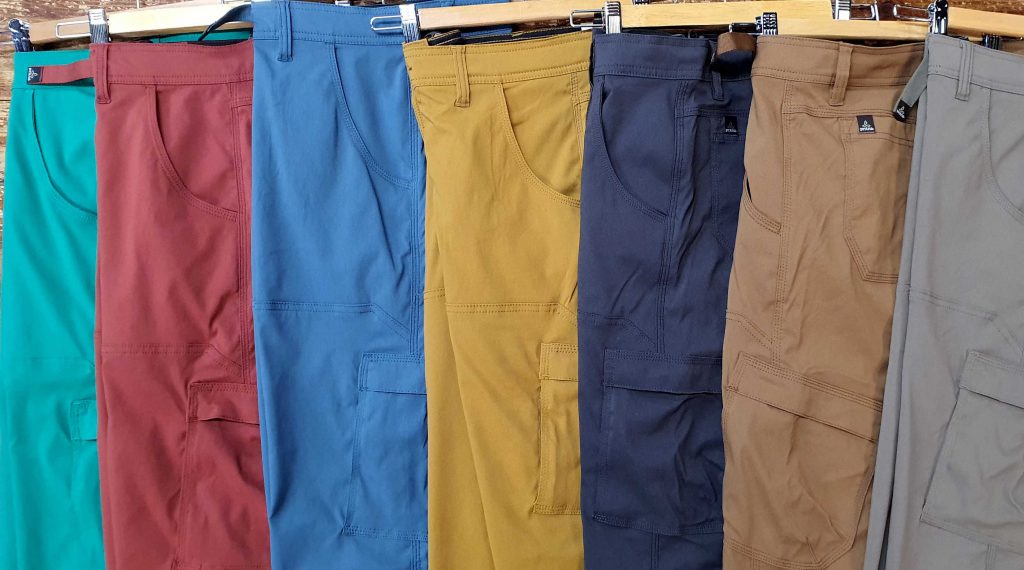 More durable than expected
If your Stretch Zions get hurt, it's likely because you asked too much of them. Their quality is incredible, and they'll handle a lot but won't handle being used for regular padless kneebars or sliding around on sandstone. You want prAna Bronson Pants for that—or, you know, a kneepad.
These pants are the jack-of-all-trades and have been tailored toward regular climbing, yoga, and hiking. Keep that in mind and only push them to 130% of what you think they'll handle. There is no doubt a pair of Stretch Zions will last you years.
The Stretch Zions are very versatile for the outdoors, but you can also wear them out wherever jeans are acceptable. They dry super-fast which is awesome for water crossings, rainy hikes, and even swimming in unexpected yet irresistible waterholes. They're not the greatest in very cold weather, but I've been comfortable enough with thermals underneath whilst camping in negative temperatures. That 3/4 pant feature also keeps them clear of a bicycle chain on chilly days where shorts are a bad choice.