Written By K2 Adventure Advocate Matthew Horan
Our K2 Adventure Aadvocate Matthew Horan has climbed and hiked through the Himalayas, Europe and New Zealand, with several ascents over 6000m including the iconic Ama Dablam (6085m).
With kids nudging the teens, he took a more family-friendly adventure along Tasmania's Three Capes Track. This track has only been open for five years, but it's already one of the world's most iconic walks.
The experience was built at a cost of approximately $40 million and features luxurious huts – especially for those who have experienced the olfactory delights in NZ – wooden boardwalks and seriously spectacular views.
Duration - 4 days / 3 nights
Total distance - 48 km 
Grade - Easy to Moderate
The Three Capes Track is a near-perfect introduction to multi-day walks. Specifically for my family, which includes a wife who will only sleep under the stars "if there's five of them and they're on a sign" and a nine-year-old daughter unaccustomed to roughing it.
My son and I walked to Everest Base camp in 2019 when he was 10, so the Three Capes Track was a great way to introduce the rest of the family to a longer hike. Considering travel restrictions, it was also pretty much the only way we were going to get our adventure fix, so the decision was easy.
Three Capes has an efficient booking online system but get in early. With only 46 people allowed per day, it's very popular, and track numbers have also been further reduced to allow for physical distancing.
An adult pass is $495 each, while children are $395. It's certainly not the cheapest walk around, but worth it for the infrastructure including three nights in very good huts.
If you have the time, Hobart is an awesome place to spend a couple of days. We were lucky enough to time the trip for New Years' Eve and watched the fireworks from the harbour.
COVID wiped out the Sydney-to-Hobart race last year, so the town was a little quieter than normal. I recommend taking the (licensed, yay!) Mona Roma ferry to the Museum of Old and New Art (MONA).
You'll also need a couple of hours to stock up on any last-minute food items. My kids are allergic to gluten, dairy and soy, which is, of course, what almost all dehydrated outdoor food is made of. Thankfully On Track Expeditions makes some great heat-and-eat meals, which I'd already bought some of from K2. Otherwise, it's walking distance from most city accommodation to Woolies and the outdoor shops.
The first day starts early, with a 7.30AM start at Pennicott Wilderness Journeys. Pennicott is the main transport partner for the track and while you can either drive or catch other transport options to the start of the track, they're actually the cheapest and most efficient.
It's about a two-hour drive to the Port Arthur Historic Site. Your track fee includes entry to the site and a tour, which is an absolute must with fantastic and knowledgeable local guides. Pennicott runs two boats a day across the bay to Denman's Cove. The cruise takes about 45 minutes, giving you a short tour around the bay and into some amazing sea caves.
From Denmans, it's a 5km walk through light scrub to your first accommodation at Surveyors' Hut. The walk itself is fairly easy and much of the track is graded gravel or wooden boardwalk. What made it harder was the 25kg backpack I was carrying. Now, I'm a pretty experienced hiker, so I knew what I was doing. I purposely packed heavier items – food, medical kits – into my pack so my wife and kids could have lighter packs and a more enjoyable hike.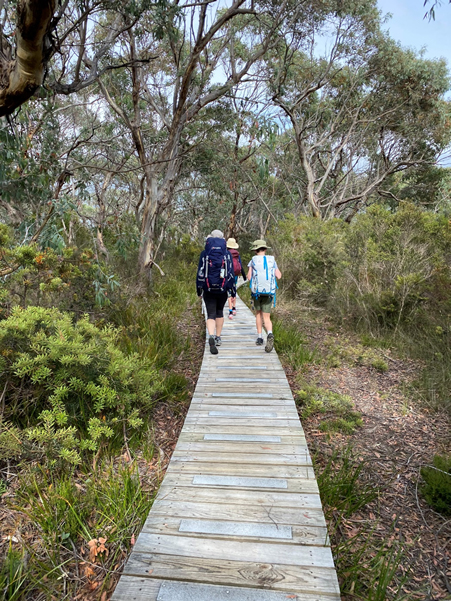 The Surveyors' Hut also has a BBQ, so I packed some fresh steaks, fresh veggies and a bottle of Ninth Island Pinot Noir to sip while the sun went down. (Ninth Island do plastic bottles especially for hikers, and you can pick them up at the Port Arthur gift shop). A gourmet first night, with the promise of a seriously lighter pack on Day Two. This still meant I was back to head-down yomping for the first two hours.
The huts are glorious, with two communal kitchens, common rooms and a big deck to watch the sun go down from. The common rooms in each hut along the track have the same books so you don't have to "borrow" the one you've got hooked on. The kitchens have about four, four-burner gas stovetops and plenty of cookware.
Sunset wasn't until 9PM, so we spent time getting to know our fellow hikers. You're with each other for four days, so it becomes a nice little journey with people you become better friends with each night.
Each hut has a resident ranger who gives you a short talk each night on the history of the track, a weather forecast and what to expect the next day. We also got to know a wallaby and it's joey who came close to the hut and delighted the kids.
Day Two is slightly longer – about 11km. The track is very well designed, with Day One the shortest, as you have the heaviest pack. Day Two is a little longer – your pack is a bit lighter, but it's still not punishing. Day three is the longest but you get to dump your pack for an out-and-back. Day Four, your last day, is the longest, but your pack should be fairly empty of food by then.
Day two starts with a short climb to Arthur's Peak, with some spectacular views – also your first good ones of the Tassie sea cliffs. However, most of the four-hour walk is spent within the forests and heaths.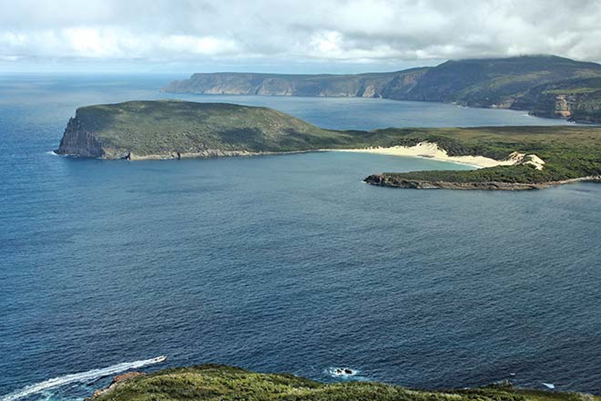 Any monotony (while not much) is broken by the innovation of "story seats"; small rest areas, usually with a seat, which help tell the story of the hike. Designed by different artists, the story seats are accompanied by an excellent small guidebook given to you in Port Arthur. The guidebook and seats combine to describe things as diverse as the geology of the area and the animals you encounter, to the fishing industry and climbing culture. 
The real highlight of the day is reaching Monro Hut, with its breathtaking views of sea cliffs from an attached viewing platform. For the past three years, the hut has also featured a resident tiger snake called "Terri", which tends to sleep just off the boardwalks and terrify hikers. Like me, it's not entirely harmless (it's a f***ing tiger snake!!!!) but it tends to stay away from people. I hope.
Monro has a heated outdoor shower, so it's a good opportunity to have a relaxed and clean afternoon.
This day is the highlight of the hike – not only do you get up close and personal with Tasmania's most incredible sights, but you also get to do it without a pack. In the morning you dump your big pack in a storage hut and take a day pack for a 15km round trip out to Cape Pillar.
I have a great Lowe Alpine Stuff IT packable day pack, which was perfect for the job.
You walk to Cape Pillar – one of the Three Capes – with a short detour to climb the vertiginous path up The Blade, a dolerite sea stack teetering off the path. This is not for the faint-hearted so my wife decided not to risk vertigo and waved the kids and I off. There's not much room at the top, and it's advisable to wait for a free spot.
Returning to Monro Hut, you reclaim your pack and walk the 4km to Rettakunna Hut for your last night and big last meal. This allows you to use up all your food to lighten your pack for the last day.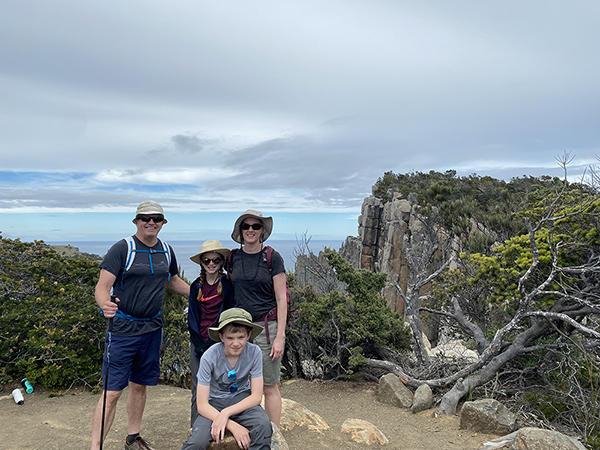 Of course, my pack wasn't light at all on the last day. As the food came out, my wife and kids' clothing and other things came in. It meant that for the one-hour slog up Mt Fortescue in the morning, they skipped on ahead while I plugged in an audio book, got out the poles and settled into a Himalayan pace.
Once you hit the top of Mt Fortescue it's mostly downhill for the rest of the day. You get the opportunity to dump your pack again near a story seat and head out to Cape Hauy, which literally involves about 2400 steps and ends with spectacular views of the famous Totem Pole climb. We got to see three climbers coming up the neighbouring Candlestick, which was fun to point out to the less vertically inclined hikers.
Want more trip notes and recaps from the K2 Base Camp team and our adventure advocates? Read on here.