Hi, my name is Mike. I was diagnosed with nystagmus within the first year of my life, and short-sightedness (nearsighted or myopia) when I was around six years old, so I haven't known any different. Last year I completed a 3,275km walk of the full length of New Zealand, all to raise awareness for nystagmus.
I've always had a love for outdoor activities and learning new skills. So, when I can combine them, I'm more than happy and in my element.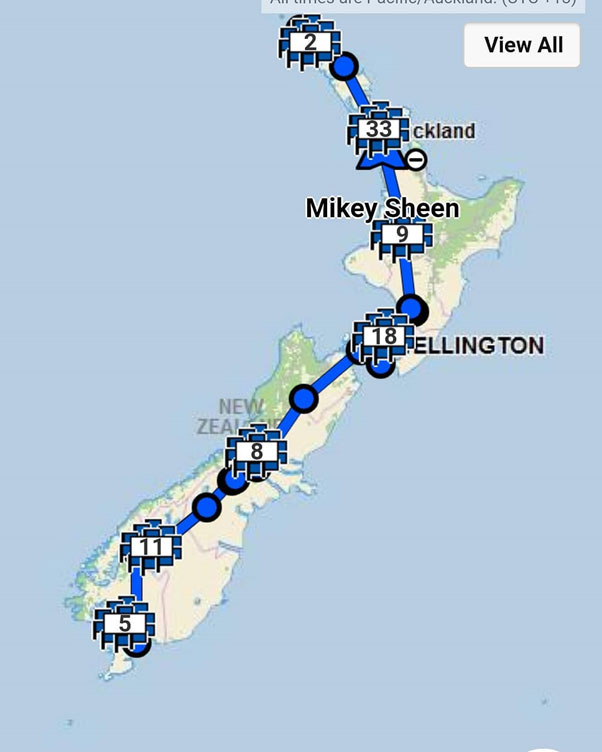 The Glass Slipper Mutants
I purchased my first pair of trail running shoes from the K2 Base Camp store in Brisbane's Fortitude Valley all the way back in late 2018. I had no intentions of walking the length of any country at the time, but I did plan on using them for many hikes, including several thru - walks.
Two friends of mine had an incident earlier that year whilst we were out hiking in Queensland's Mount Barney National Park. The long story short is that I had to do a lot of running that weekend looking for them so I always had my mind set on getting some light easy trail runner style hiking shoes. Boots never appealed to me, and since I already do a lot of ankle work and balance work at the gym, I prefer not to use ankle support. Heading into K2, I had my mind set on getting a pair of trail runners, but the big question was: What type of trail runners!?!?
I tried several pairs on. Some felt good, and others not so great. But I eventually found my Cinderella slipper, as my Prince Charming in his blue K2 shirt handed me La Sportiva Mutants, it easily fit like a glass slipper – smooth with cloud-like comfort. And it was stylish too, with its crazy "out there" colours!
The sale was made and all parties involved were happy, especially me.
So, after several hikes, the idea to walk the length of New Zealand was concocted somewhere in this thick skull of mine. "Why!?!?" you ask... I'm still seriously asking myself that question. I wanted to make a small difference in this world, especially by having an eye condition known as Nystagmus.
Nystagmus is a complex visual impairment, characterised by involuntary eye movements, affecting focus and depth perception. The eyes appear to wobble or flicker from side to side or up and down. Nystagmus is caused by abnormal functioning of the part of the brain which regulates eye movement and positioning. Unfortunately, my nephew was also born with the condition, which was my final push to go out and do something to help.
I wanted to walk the length of New Zealand not only to raise awareness of Nystagmus, but also to prove that "screw you Nystagmus, you do not dictate my life, nor will you define who or what I am".  Not just for me, but for my nephew, and anyone else living with Nystagmus, other eye conditions, or any other type of condition for that matter.
Plus let's face it, New Zealand is stunning!
The walk itself was 3,275km across the length of New Zealand's North and South Islands. It involved a variety of terrain, from rocky mountain scrambling to surging river crossings, hilly road walks to long beach walks, and everything in between. I even tripped on some tussock and got it wedged up my nose. I now feel the same about tussock as Sideshow Bob feels about rakes.... *Sideshow Bob shudder*.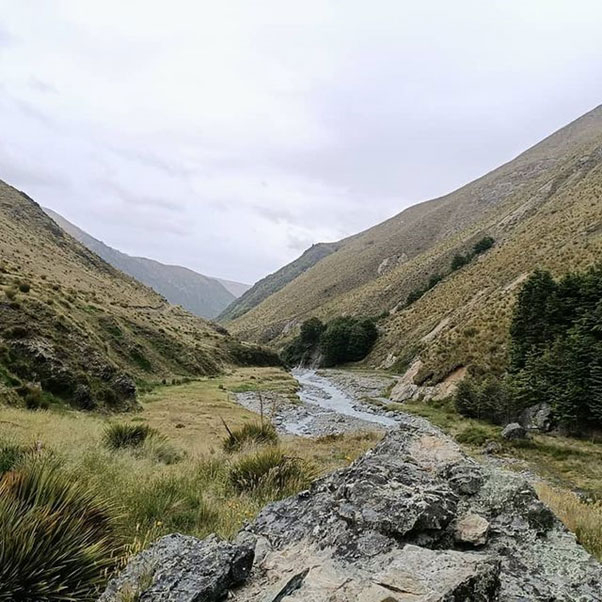 There was some truly epic scenery along the way, and I seemed to cover all seasons during my journey. While I was very lucky with the rain, only having a few days of rain walking, I did get to play in the snow and the sun. There were some hard days where the last thing I wanted to do was walk, but there were some extremely positive days too. There was also lots of singing and talking to myself, which believe it or not, helped keep me somewhat sane. There was some kayaking involved and some sections were completed by bicycle to give me a bit of variety. But in typical New Zealand fashion, the landscape and people were nothing short of amazing.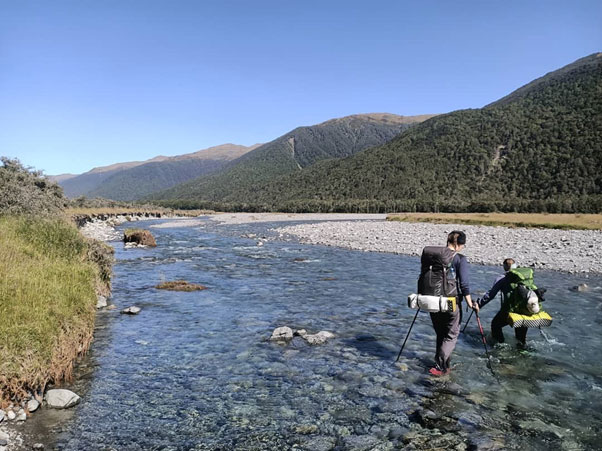 After covering many walks with my La Sportiva shoes in Australia before my walk in New Zealand, it's fair to say that I had worn them in. However I'll admit that on the long road walks they weren't particularly comfortable, but they weren't completely unbearable either. I challenge you to find any shoe that is comfortable after walking 20km+ each day on long hot tarmac roads. Otherwise, the shoes were great.
They were grippy enough for the mountain climbs and I never lost confidence at critical jumps or steep ascents/descents (for what it's worth, I don't walk with poles). They were light enough to almost feel like I wasn't wearing anything on my feet and to not even notice them is surely what you want (no news is good news). Another pro that surprised me is that it would be a pro, they're not waterproof! I knew they weren't waterproof, that wasn't the shock, but the fact it was positive was a surprise. "What!?!?!? That makes no sense Mike, explain yourself!!!!" Trust me, I hear your bewilderment, and I too had the same concerns. But put it this way - New Zealand has a lot of rivers. I was walking the length of the country and logic would suggest that I would probably have to wade through a lot of these rivers. To my shock/horror, that is exactly what I had to do.
Now here is a fact, waterproof shoes are only waterproof up until the point where your foot goes into the shoe. Another fact to catch you out is that water is going to get in around your ankle. The big difference and the positive, non-waterproof shoes can air quicker and slowly dry out, even whilst you're still walking, waterproof shoes don't have that same luxury.
Just a shame that as soon as my shoes would start to dry out, I would have another river to cross.
Either way, always remember to air your feet and dry them properly.
By the time I had reached the end of the South Island my first pair of shoes had run their course. Bear in mind that I had already walked several hundred kilometres in them before being in New Zealand, on top of the 1,513km that they had to cover on the South Island. That's impressive.
When I arrived in Wellington, the start of the North Island, I had a parcel of goodies waiting for me, which included my next pair of La Sportiva Mutants. This pair was half a size bigger, as they needed to be, they were also BRIGHT green now. I missed the fruit pastel colours of my first pair at first, but I did grow to love my stunning green shoes. These shoes had also been slightly worn in before I headed to NZ. You never want to take brand new shoes out on a big hike until you have worn them in at least a little.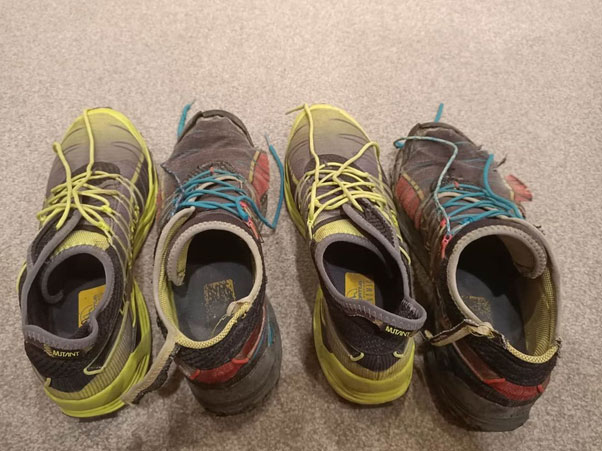 Now I know people that prefer wearing hiking boots will (correctly) tell you (repeatedly) that their boots have lasted longer. And they may be right. But as I say when it comes to people asking that same old question: "What is better? Trail runners or boots?", it comes down to your preference. I prefer to not have the ankle support, I prefer to know that if I need to run, I can, I prefer the lightness.... but that's just my opinion. If you lean more towards the trail running shoes than the boots, or you are thinking of switching over, I do highly recommend the La Sportiva Mutants.
I also purchased several pairs of SAXX Blacksheep underwear from K2 for my walk. The best thing about them is that whilst I was hiking, I didn't even notice them for most of the time. This is exactly what you want from underwear. They felt extremely comfortable, very lightweight, and dried relatively quickly after washing or after long days of collecting sweat…… or from the deeper river crossings.
Other things I carried on the hike were:
After 96 days of hiking (including six rest days), I arrived at New Zealand's northern peak, Cape Reinga and I was done. On reaching the bright white lighthouse which looks out over some of New Zealand's most stunning beaches and bright turquoise oceans, I knew that I had finally completed my epic challenge. I think I spent over an hour there, taking in the sights and the moment, while enjoying the celebratory and very well-deserved beer!