Written by Neville Appleby
I am a long-time runner with over 50 years of experience in every aspect of running - track, road, trail, mountains, triathlons, duathlons, and marathons. As a result, my ankles and knees are not what they once were. However, the advent of big spongy shoes has helped in allowing me to continue with my love of running.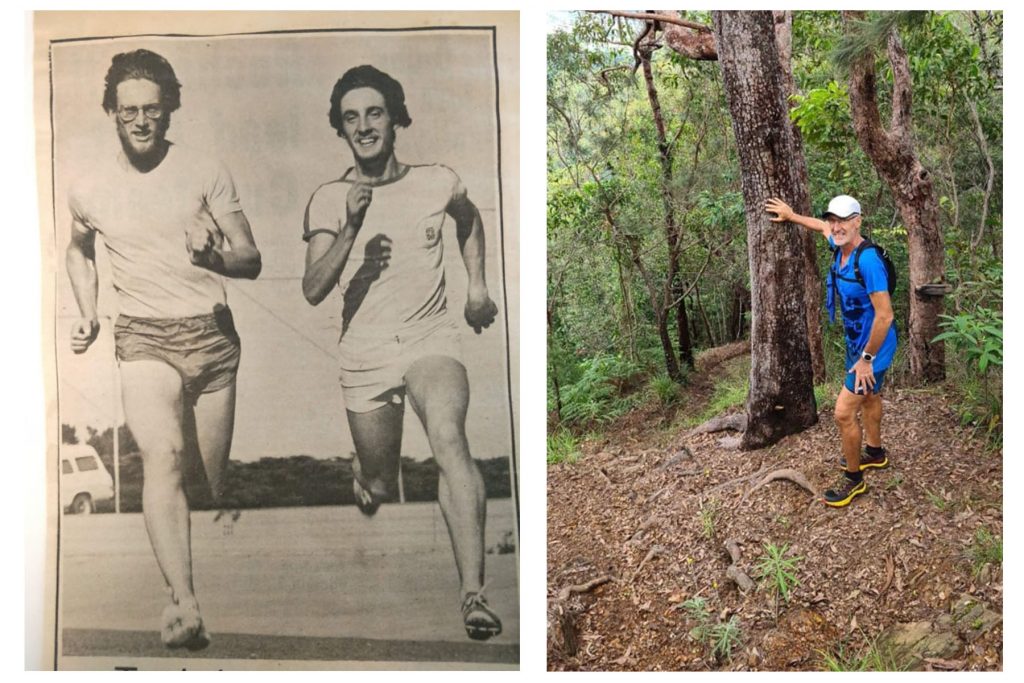 I live in beautiful Cairns, Far North Queensland, and in the hills behind the city are many rainforest trails with varying degrees of difficulty. These have become increasingly popular in recent years as mountain biking and trail running have become more prevalent.
I chose to test the La Sportiva Jackal shoes on two different rainforest tracks close by and on a peak climb. Each run was distinct from the other, ranging from easy to moderate and then difficult. Each also provided different testing surfaces and had individual requirements.
The first test was on the Yellow and Red Arrow tracks in the Mount Whitfield Conservation Park. The tracks are heavily used by runners and walkers as they are close to the city, resorts, and residential areas. The Red Arrow is a bitumen-based, 1.5 km loop with plenty of timber steps, popular with tourists as it is near the Botanical Gardens. It connects to the Yellow Arrow, a well-worn dirt path with rock and concrete steps and 2 km climb. I regularly use this run for training.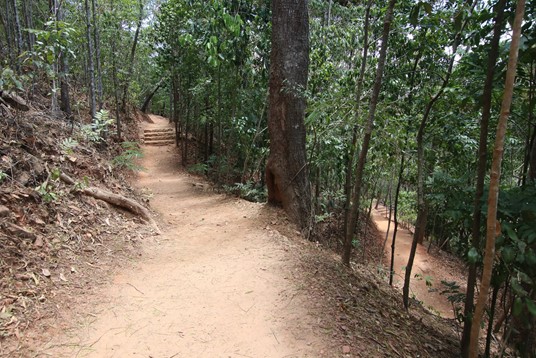 My second trial was at the Ivan Evans track in the hills behind my home. It is 3 km up and over and is much more rugged with lots of loose rocks and roots, as well as rocky creek crossings, climbs and descents. It is runnable but requires care and concentration. This track is well used by keen walkers and dog exercisers.
The shoes really came into their own here with the grip on the wet rougher surface truly helping during the run. While the trail was slightly wet (as it generally is in the rainforest), the confidence gained from the sure-footed grip was reassuring for me.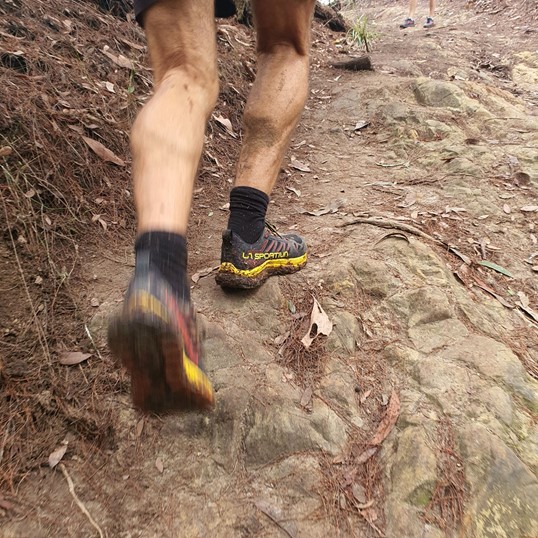 The third trial track was along Walsh's Pyramid near Gordonvale, located 20 km south of Cairns. It is a 922 metre climb over a 3 km rough track with plenty of exposed rock climbs. One word to describe it - steep and unforgiving (ok that's two words).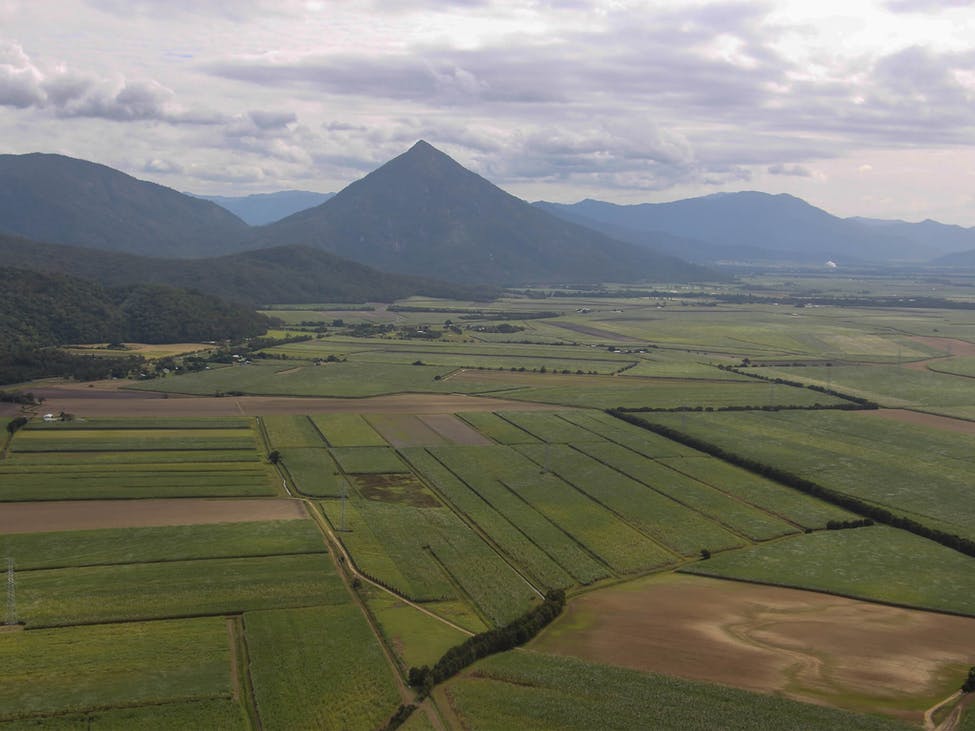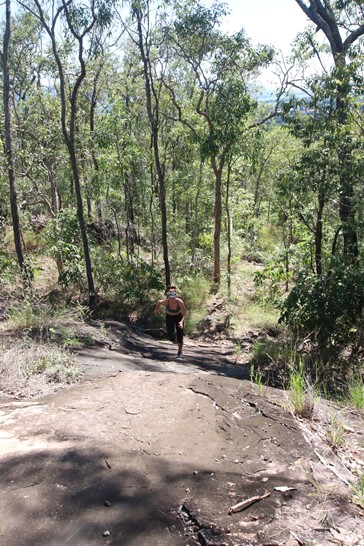 "The Pyramid" starts straight out of a small car park, with no transfer or warm-up. The trip up is special as it always ends with days of sore legs afterwards and a few cuts and bruises from a fall. This time I enjoyed the company of my daughter and my wife. The climb is remarkably popular with visitors and locals alike. Today it is signposted at every kilometre, the track is marked with tape, but still basic.
While the Ivan Evans is wet, the Pyramid is generally very dry, except in the wet season when it is just a flowing torrent. The exposed rock climbs are steep and require the grip provided both on the way up and down. The shoes certainly did not let me down here. They were excellent. I especially like the protection around the toes as they did take a bit of a beating from kicking rocks, roots etc.
The Pyramid is a difficult climb and a more difficult descent to get the right shoe wear for. It must be light, have a good grip and offer good support. Road shoes just do not cut it on rough surfaces. The Jackals were as good or better than any mens trail running shoe I have used.
So, which trail was best for the shoes?
So, here are my overall thoughts - for me (old guy, dodgy ankles) not enough padding and support on harder running surfaces, but on those soft grippy runs, very good. On the more difficult surfaces, excellent. I guess my problem was that I needed my big old soft shoes to cover the hard ground before getting to the spot where I could slip into the Jackals and let them do their thing.
Looking for your first or next pair? The K2 team are on hand to help all outdoor enthusiasts in finding the perfect footwear for all activities. Contact us today for any questions about our range of trail running shoes or visit us in-store in Brisbane.