Mt. Buffalo was cold, around 2 degrees. We shivered through coffee and breakfast, then went and found some sunlight to prep the rack.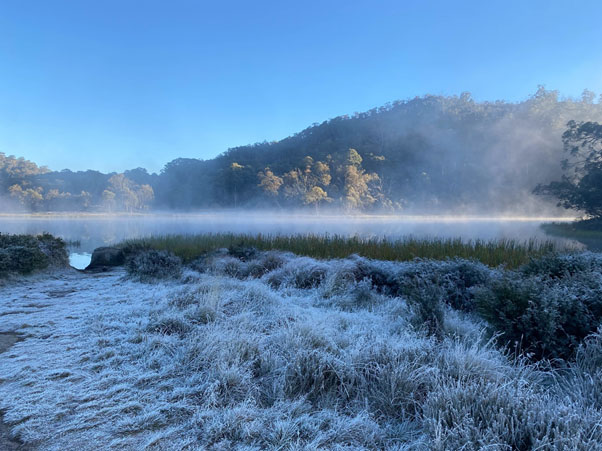 We blindly followed some approach beta down the gorge to the start of Where Angels Fear to Tread which is a super obvious line, so it wasn't hard to find once we got to the fixed ropes. I was initially nervous about the route as there were a lot of question marks. We had heard of people having epics and not being able to find their way out of the gorge once they topped out the route.
I won the rock off and was happy to get the first pitch. It's the steepest climbing but I still wasn't that confident in my jamming. I got up the start and committed to my jams. Before I knew it, I was building a belay and thinking to myself that this was going to be an awesome day. The third pitch, my second lead, was all time, I was charging, so stoked that I felt secure in my jamming and working hard to climb as far as possible, eventually, I had to stop because of rope drag but what an epic time I had on that lead, I was so happy with myself. I built my belay perched on a little shrub hanging out of the crack enjoying the warm sun and my self-satisfaction as I belayed Adam up.
We charged up the route as Adam led the off-width pitch like a boss. Once I seconded up to the base I decided to save my skin and rigged my ATC as an ascender to prusik the rest of the pitch. The last pitch was super wandery but relatively obvious features presented themselves from the beta. From there we found the supposedly complex walk-off pretty straightforward. In all, we spent approximately seven hours car to car.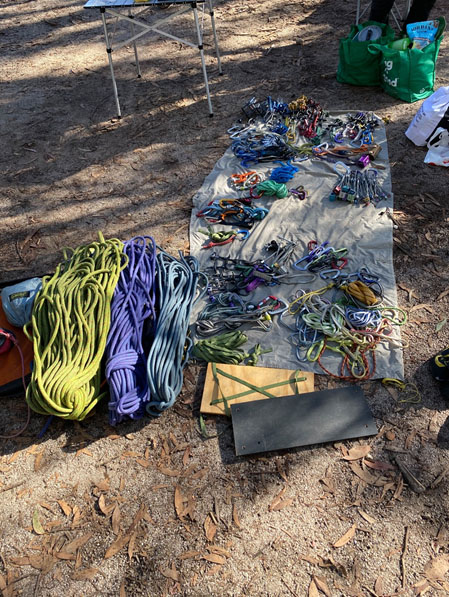 We decided that the next day would be rest and gear prep for Ozymandias, a classic aid line in Buffalo gorge. There ended up being a lot to do: we needed better clothing as the route is in the shade all day and more  But first we enjoyed the hot showers at Lake Catani, after being quite cold for about a week this was heaven. We went into the local town, Bright, to pick up thermals, gloves, and other supplies. Making decisions about weight vs calories vs water usage was a good little logistical challenge. Adam couldn't pick up our cam hooks from the post office but somehow managed to get onto Rowan, the owner of a local adventure company. He offered us a loan of his cam hooks and a number 6 cam, which we thought we might need for the last pitch, again in return for a six-pack of beers.
Climbing Ozymandias, Mount Buffalo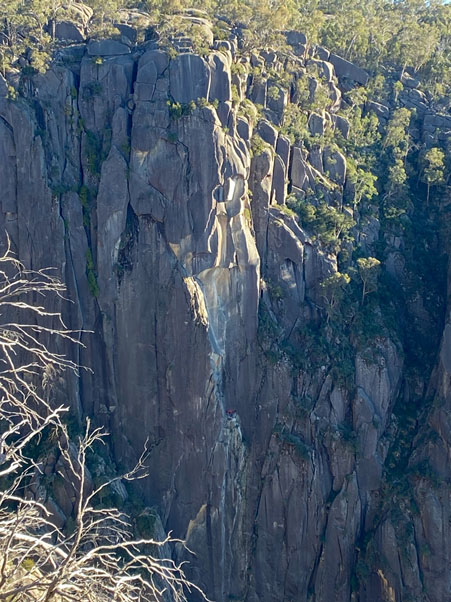 Ozymandias Direct is a glorious 300m aid line up the north wall of Buffalo gorge which is visible from the tourist lookouts. I had previously visited the gorge a year before and was inspired to come back to try it out. The next morning, we woke up at 4.30am nervous about what lay ahead as we didn't necessarily have enough experience to get it done. We knew the approach now and knew it was going to be hard work getting down there with big packs. We got it done in about two hours to the base of the climb. Here, we also filled our water up (15L) in the creek flowing down the gorge.
Adam won the rock off and so he led the first pitch at A1. He was fairly nervous and hesitant but got it done. I was up the pitch ready to lead by 11:30am. I stepped off on what we were told was the crux pitch, realising very quickly that while I might make upward progress with my climbing gear placements in the pin scars, you wouldn't want to fall on some of them.
And so it went, aiding up on our borrowed cam hooks and the odd marginal placement that made the runouts extra spicey. My last piece of gear was a bent, rusty carrot and from there I cam-hooked 5m to the anchor. An epic hanging belay on a sheer wall many metres above the valley below; our homemade bosun's chairs really came in clutch.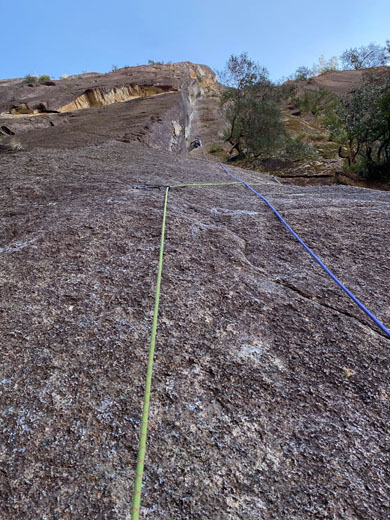 Adam cleaned and I hauled. Eventually, he set off to lead the third pitch having a real-time of it. The second and third pitches were significantly harder than the first. Adam said as he left the belay "if this is as hard as it gets then we're laughing". I responded, "say that again in 30m".
From there it took Adam 2.5 hours to progress around 20m and he made the call to lower back to the anchor. I knew what this meant. If Adam couldn't figure it out, then I wasn't confident enough to get us to the top. Down we went for a horrible bivvy of failure, getting harassed by possums before having to hike all of our gear back out of the gorge the next morning. Grim team, really grim. We were both tired and grumpy the next day and had few words for each other. But we decided to go camp up at Mount Hotham and have beers and pizza at The General (also known as Australia's Highest Pub).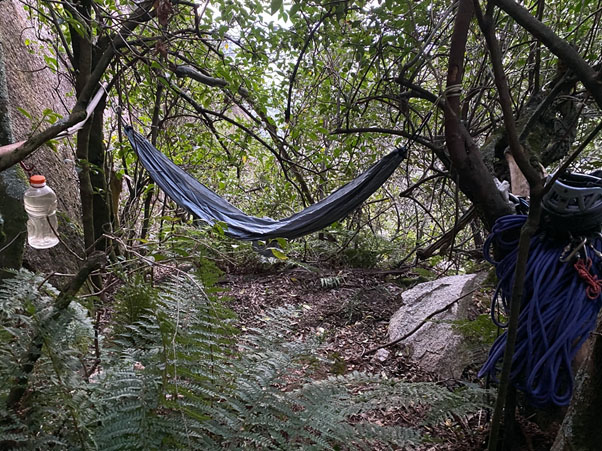 After a windy night up at JB Plain we decided to get a jump on the next day's driving, boosting to Bright before heading to a free campground in Wagga Wagga. From Wagga Wagga, we arrived at the Warrumbungles Range, just in time to watch the sunset over Belougery Spire and Crater Bluff from Camp Blackman.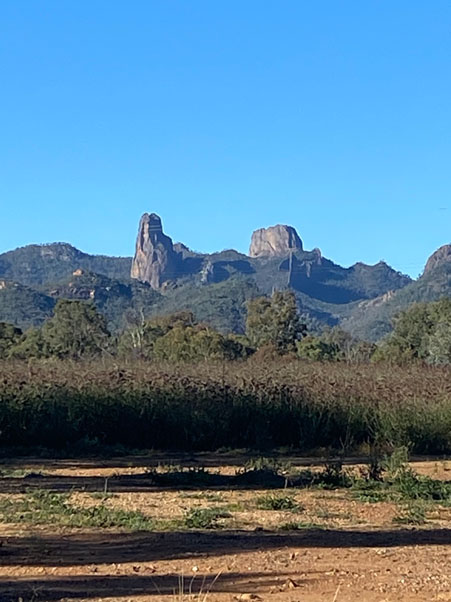 The next morning was a slowish start getting our hiking packs and food sorted before trekking into Balor Hut. We arrived around midday, set up camp and decided to go for a little scouting mission to find the approaches to Flight of the Phoenix and Cornerstone Rib. Good thing we did too as we would have lost time and energy approaching Phoenix the wrong way.