Trip To Bluies And Back Again
Why read a blog about climbing the amazing Blue Mountains in Australia - a world class destination for climbers - when you get a literal metric of videos pop up just by searching "Climbing Bluies" online?
Well, because none of them talk about how to get there and take full advantage of the amazing climbing on crisp orange rock. This blog is for Bluies noobs looking to head out there with no idea what to do once they get there.
Getting to the Blue Mountains
Ideally, you get a group of people you usually climb with to head down with you for the big trip. Organise driving rotations for the duration of the trip and make sure you have plenty of people who can take turns driving. A team of four in a car works out to be the best if you want to keep driving without long rests. It cuts on the time you spend on the road which means there's more time on the rock. However, if you only have two drivers, consider stopping and having a rest (naps) at various spots on the way down.
You can always power through and make it to the Bluies with a small team but what's the point of getting there faster if you're going to get there and spend a day recovering before you can start climbing? Remember, it's always better to arrive late and rested rather than early and barely functional.
There are a few national parks and beaches you can pull up at and have a rest. If you're resting through the day, consider pulling up to beaches near Coffs Harbour or Port Macquarie. Resting during the night might be slightly tricky so if you find yourself caught out in the dark consider looking for the nearest showgrounds to camp overnight at. They are generally empty with mainly caravans spread around the field. Pulling out the tent and doing a quick set up may sound like a lot of effort at the time. But that little time spent setting up is what keeps you from carrying around neck pain from sleeping in your car seat throughout the trip.
Once you get near Sydney, you'll start seeing signs to get to the Blue Mountains and the Sydney Traffic will start appearing. Take it from someone who used to live in Sydney, pay the $5 and take the toll tunnels - it will save you up to 40min of wading through traffic. Once you've come out near Parramatta, you should only be around an hour and half away.
Accommodation in the Blue Mountains
One of the beauties of the Bluies is that you could be an absolute climbing dirtbag surviving off a small budget because there are so many free camping grounds 5 mins from the crag. No, I'm not exaggerating. You could roll out of bed at 8:30am make yourself a coffee with some breaky and be tying in for your warm up by 9.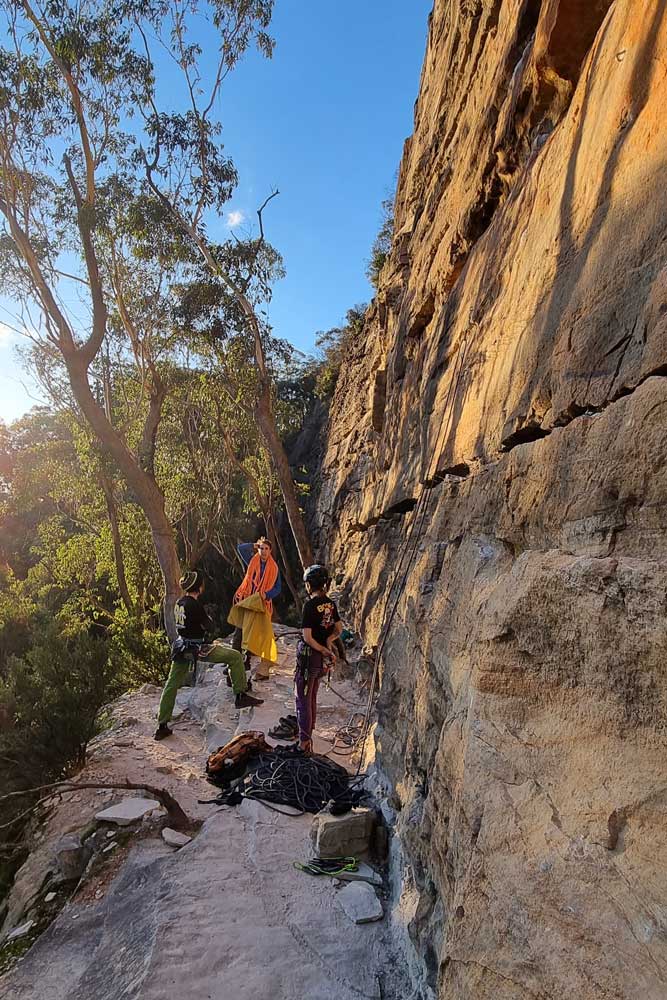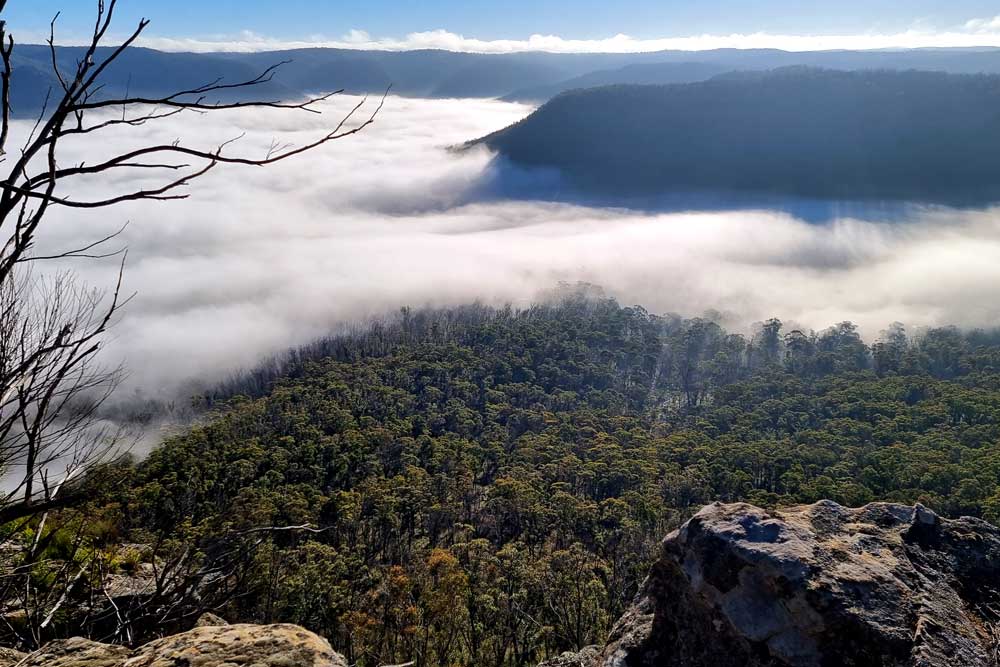 This campground allows fires and has a single pit toilet. It attracts many climbers because it is free so there are some unspoken housekeeping rules to take heed of. Pack out what you pack in, no noise after 10pm. It is a small campground so try and keep your group's tents as close as possible. 
Bluies has some of the best climbing routes I've done in my entire life. I struggled through most of it but God it was worth it. I could ramble on about the quality of climbing here but I will leave it to the few photos I took off my phone and a friend's drone and let you decide for yourself.
Instead, I'm going to talk about "The Beta". I have always enjoyed climbing before the sun is up, not because I'm a masochist. I hate being up before the sun as much as the next 9-5 desk jockey. But I do it for those five minutes of bliss you feel when you are halfway up a wall and the sun hits you on your back and you get the juice you needed to keep going. It's probably what it feels as if you've just had the NOS button pushed in your system. If you want to experience climbing big walls, it's worth getting out of bed at stupid o'clock to jump on a few multi-pitches of the Blue Mountains.
 I would recommend trying to get at least a couple of multi-pitches in throughout your trip. It's just the best way to spend your day. And on days you want to take it easy, visiting the Celebrity Crag is a good day out. It has an exciting approach where you crawl under a cave AND you're climbing right next to a waterfall!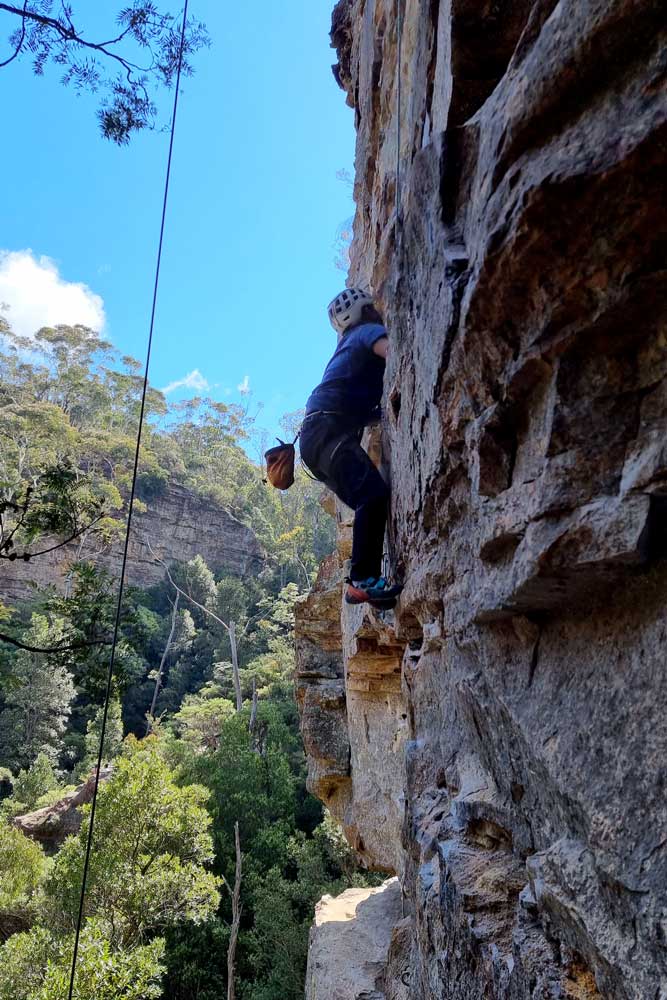 What to do on "rest days"
I probably don't need to talk about how raw your skin would be after numerous back-to-back days of climbing. You definitely need to sneak in a break before you hurt yourself, or worst, don't get the send on projects because you can't hold anything more than a beer can. I would say this is more important to have as Beta than actual beta.
If you're camped up anywhere in the Blue Mountains you will be no more than a 30 minute drive away from Katoomba, the recovery centre for all campers. You go there to resupply all your rations, order a pizza and a beer post sends, and have a hot shower.
There is nothing better than having a hot shower in the crisp cool temps of 9°C after camping for the last 4 days.
Visit the recreational centre in Katoomba Sports & Aquatic Centre. For a sweet deal of $7.80 you get access to hot showers, pools, sauna, and a spa.
I have never realised how much a sauna helps in getting rid of the dead skin, and calluses. Once you're feeling fresh and clean ready to dive back into the dirtbag lifestyle you are so good at living now I'd would recommend one more act of "treat yo' self".
There is a little cafe in Katoomba called Yellow Deli. If you ever wanted to know what living inside a Hobbits house feels like, here's your chance. This little Cafe is built like a tree with its trunk being the main reception/bar area while it's roots reaching seating areas for small groups on multiple levels below.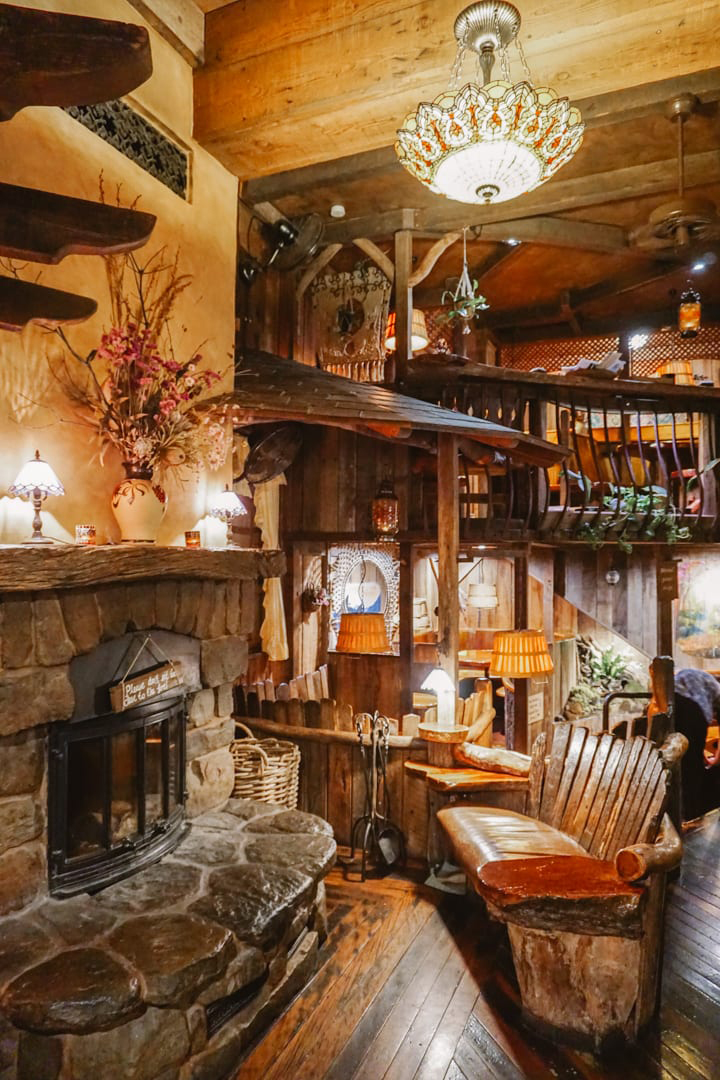 Besides hanging in Katoomba, you can always go for moderate hikes to give your fingers a rest. Grand Canyon is a good day out to give your legs a bit of a workout. Or hike out to the Lunch Ledge to have a picnic and scout out some potential multi-pitches.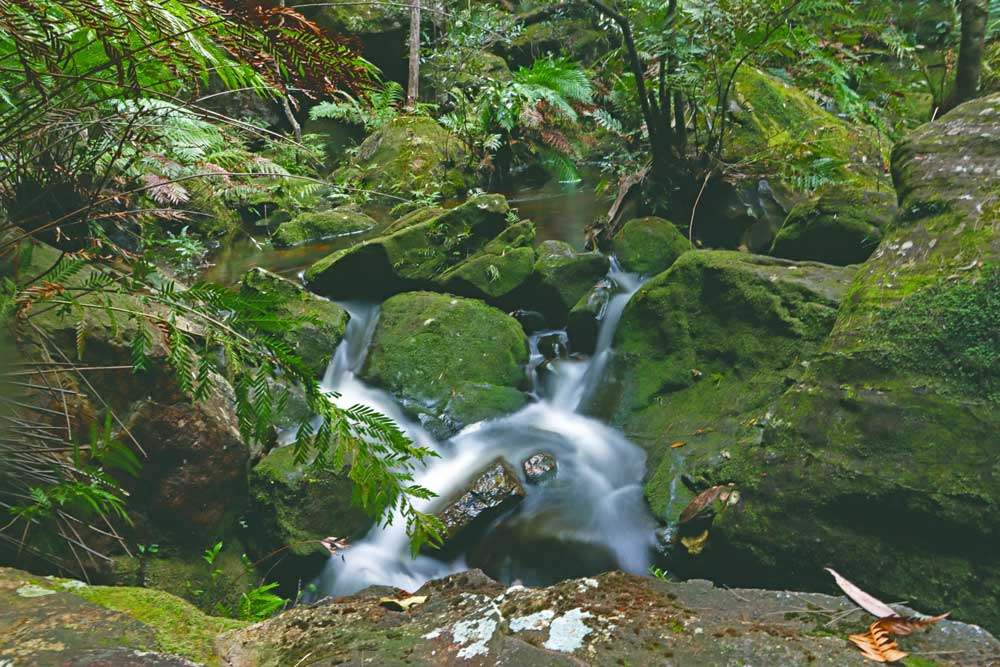 How to deal with the post- bluies blues
I don't have any beta for this. From speaking to many others who've been here for the first time it is a real thing. All I can tell you is that if you bring a big crew who are all snap-happy folks you can all dump your images on a drive and scroll through your happy memories on the drive back home. But there is so much more to do out there. so keep the stoke high and don't stop looking for more adventures.
Want more trip notes and recaps from the K2 Base Camp team and our adventure advocates? Read on here.