Written by K2 Team Member Kevin Reilly
About The Overland Track
The Overland Track it is one of the ten best bushwalks in the world. It is a minimum 6 day 65 klm long bushwalk that runs down the centre of Tasmania.
The World Heritage listed track is open from October to May and walkers go from North to South starting at Cradle Mountain and finishing at the deepest natural lake in the Southern Hemisphere Lake St Clair (Leeawuleena).
Walking The Overland Track
My plan to walk the Overland Track started in September 2014. At that time a good mate was, what I thought, heading down the path of depression. 2014 had not been a great year for him and I was concerned about his welfare. At a BBQ we were talking about bushwalking and the subject of the Overland Track came up. At this point I had been out of bushwalking for a lengthy time and was not aware of this walk. A week before I had seen an ad for Beyond Blue that stated the best two things for depression was exercise and goal planning. So I put my hand up for this walk, really not knowing what I was getting myself into!
It is a stunning walk and I recommend everyone to put it on their bucket list. There is so much variety from rugged mountain peaks, grass plains and lush forests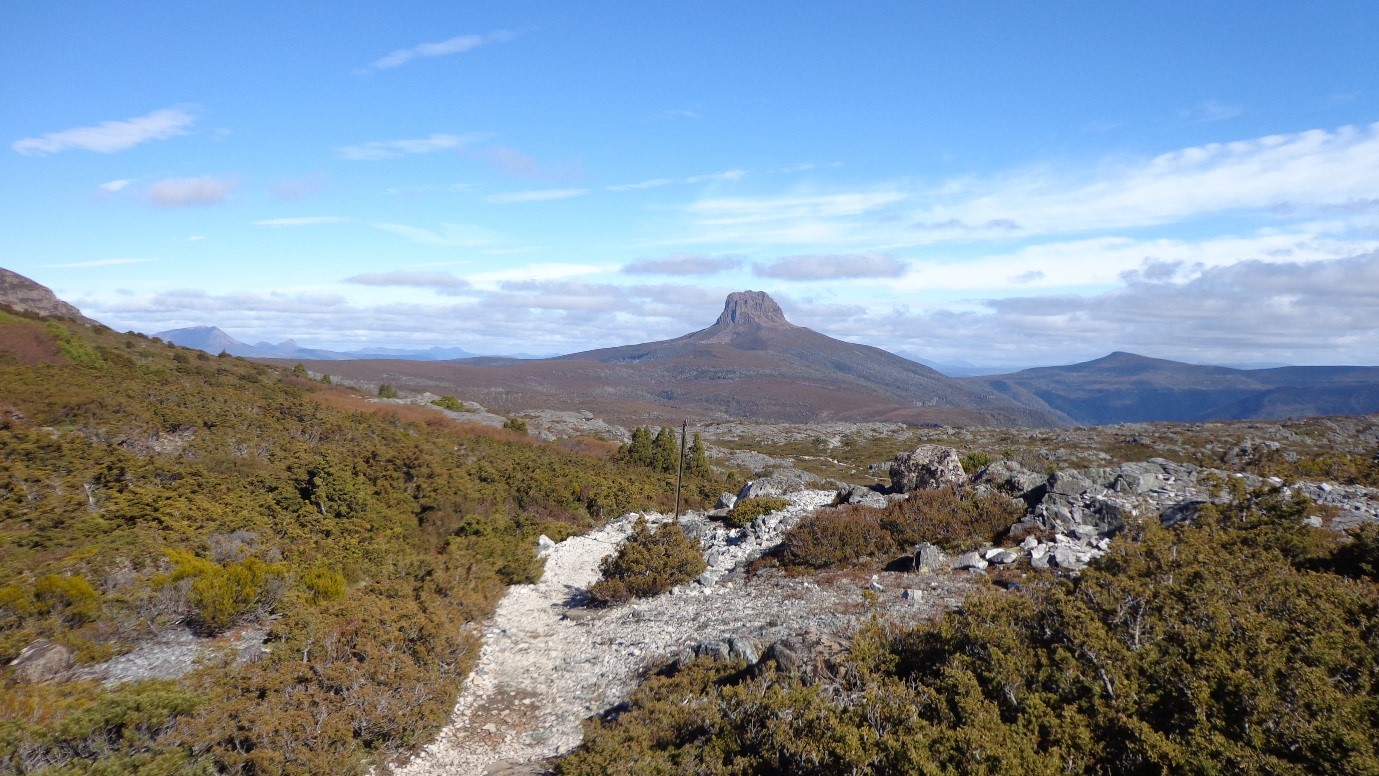 The walk has a number of huts along its route that are rudimentary with wooden bunks (some dormitory style), tank water and gas heater.
To help protect the area the walk has duckboarding along most of it. There are a variety of different types with the older ones being a little treacherous in snow and ice conditions. Platforms are also provided, to pitch your tent, at each hut.
The weather is one of the most important things to be aware of. Being the Central Highlands and close to the Antarctic the area can have snow anytime of the year, so you must be prepared for 4 seasons.
Once the decision was made to go, I was into my training. If you are not already super fit and able to carry a heavy pack….train! This walk requires a decent level of fitness. You are averaging 11 klms a day, with some days walking grinding ascents. Being a thru walk you also need to take everything with you, so an 18 kg+ pack weight is not out of the norm. I was also in need of gear as everything I owned was very 20th Century!
After a number of months training and a few dollars spent on gear, we were one of the first groups on the track on a clear crisp April morning. It had snowed a few days before and the chill was still hanging around.
Rain cover for your pack
Ensure you have a rain cover for your main pack, not just for the weather, but also as the Currawongs have worked out how to open zips and clips, to get to your food, while you are enjoying your side trips!
Decent sleeping system
At the end of each day you will be tired. Having a good sleeping system will ensure you get a decent night's sleep and can handle each day.
Food
Like sleep, on a long and strenuous walk, food is also an important part of ensuring you enjoy the time on the track. Everyone's tastes and diet requirements are different. In addition to this weight and ease of preparation are vital. There are a number of pre-packaged meals available that are tasty and nutritious. Quick to prepare and also pack away without much mess. Please also be aware that wildlife are interested in your food. Possums and native rodents will gladly chew their way through your tent to get to it. Make sure you have it packed away properly, to avoid unwanted guests during the night!
What I Would Have Done Differently
After I have done a walk, I generally think back over it, to see what I could have done differently, to make it more enjoyable. There is generally one or two things that you can tweak.
Sleeping system - This was my big mistake on this walk. I went with an ultralight, uber thin sleeping mat that was very compact. I ended up becoming sleep deprived! Make sure the sleeping mat and sleeping bag you use is the one most suited to you. I have since upgraded to a thicker mat that may be a touch heavier and pack down bigger, but I am assured of a good night's sleep. I have also invested in a down sleeping bag that is much warmer and more suited to the Tassie weather.
Decent sized daypack – again I was aiming for compactness and bought a daypack the size of a postage stamp! If you are buying a separate daypack, get one that is a good size (15 Lt+), but also can be packed away in your gear.
Too many clothes – I had way too many changes of clothes, which took up too much room. Now on every 3+ day bushwalk, I take three pairs of socks and underwear, two shirts and a pair of convertible pants. Yes things will get dirty and possibly stink, but I am not too fussed. I use synthetic wicking shirts as they are more comfortable when you are getting hot and dry quickly if there is a need to wash them. Add in warm layers where needed.
The OLT is a great through walk and something I recommend everyone to put on their bucket list. With the right preparation, gear and attitude, this can be a fantastic walk that you can do solo or share with your friends. It's very important to be aware that this is a wilderness area and Mother Nature can throw a lot at you. You should always be very respectful of this and make sure you are well prepared.