Written by K2 Team Member - Kevin Reilly
One of the most expensive purchases for bushwalking, and lets face it, it's the last thing we think about when we are heading out for a multi-day hike.
So the day before we leave, we pull it out of its carry bag, and lo and behold it looks like it has a bad case of mange! This is the dreaded hydrolysis! It will happen to all tents eventually.
Our lovely sub-tropical weather does not help. If you want to slow things down you will need to air it regularly. Ideally, you should have you tent hanging in a cupboard or at least once a month hang it on the clothesline. Then between airings it is recommended to have the tent in a large bag that allows air flow, similar to the storage bags you use with down sleeping bags. Whatever you do, don't leave your tent packed in its carry bag. If left packed up the waterproof PU panels and seams of these products will go sticky and peel off.
If this occurs all is not lost as you can repair these items with a little bit of work.
Assuming your tent needs the seams, underside of the fly and the tent based waterproofed, follow the steps below.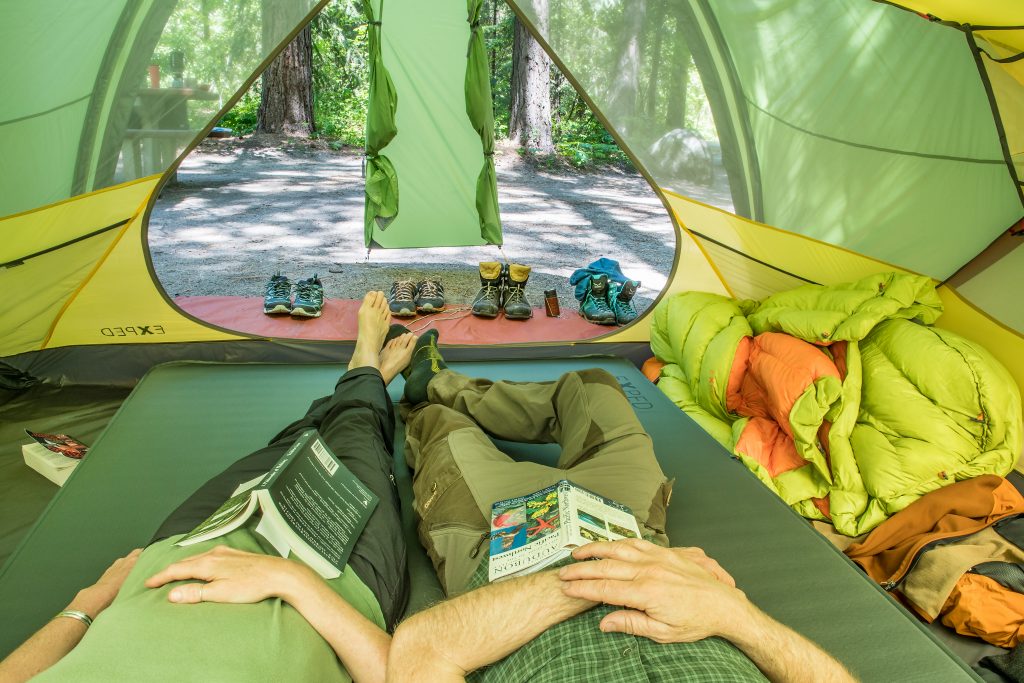 STEP 1
Clean
Shake out your tent and peel off all the seam seals that are failing.
Using a mixture of isopropyl alcohol, detergent and water, soak your tent for about two hours then scrub with a scourer to remove any of the old flaking coatings.

STEP 2
Application
Pitch your tent in a well ventilated, weatherproof area and let it sit for about 20 – 30 minutes to stretch the tent fabric out.
TIPS!

Re-tension the tent once more to ensure tent fabric is taunt enough before applying any sealants.
It's important to have a plan of action when sealing your tent. Have a walk around it first and get a good idea of the different areas. Be mindful of any difficult areas that may need special attention. Most importantly do small sections at a time so that you do not rush.
I've found Gear Aid products to be great for sorting these issues. Once you know the material your tent is made from you can then work out what is needed to waterproof things.
Seam Grip + Sil is the only sealant for silnylon tents as silicon can only adhere to silicon. Test a little of the product on your tent. If the sealant is too thick water it down with white spirit (use this to clean up any spillage too)
To seal the seams on the inside of your tent Seam Grip FC Fast Cure Seam Sealant is great sealer that is easily applied to the seams, ensuring they are watertight.
For seams on the outside use Seam Grip WP. This is tough and flexible and can stand up to the elements.
Seam Grip TF Tent Fabric Sealant is used to reapply the waterproof layer on the underside of your fly and or base of your tent. It is very straightforward to use: working in small sections apply using the built-in sponge applicator to a clean and dry surface.
TIPS!
Allow these sealants 24 – 48 hours to cure before packing your tent away.
General Care
Cleaning your tent regularly will prolong its life. Your tent has a special durable waterproof repellent finish (DWR) on the outside of your tent fly and the inner. This coating is designed to repel water. Over time the coating will start to wear off, due to dirt, friction and moisture. Periodic cleaning of your tent with Nikwax Tech Wash® will keep your tent clean and prolong the DWR finish.
This finish is especially important on silnylon (silicon coated nylon) tents as nylon is hydrophilic (absorbs moisture). As the DWR finish wears off the fabric starts to wet out, from rain, it will stretch and over time become less waterproof.
If your DWR coating is completely gone, Nikwax Tent and Gear Solarproof can be used to replace the coating and revitalise the outer panels at the same time.
The best way to apply this coating, is to set up your tent outside, rinse the fly off with water and then spray the Solarproof onto the surfaces (while the fabric is still wet). After a few minutes use a dry cloth wipe off any excess. It's best to work in small sections to ensure you do not miss any areas.
Following these steps will ensure your tent is kept in good condition and lasts you a long time.