TRAIL RUNNING - GIRRAWEEN NATIONAL PARK 30KM
Written by K2 Team Member - Matthew Zahalka
One of my absolute favourite places to run in South East Queensland is Girraween National Park. Situated in the Granite Belt, just 30 minutes outside of Stanthorpe, offering not only awesome bushwalking and climbing, but the trail running is also incredible. One particular favourite route of mine is a 30km loop. While it doesn't have a huge amount of single-track, the park more than makes up for it by running amongst boulders as large as houses precariously perched on expansive granite slabs. The hard work endured for the first 7km's is worth it, as an optional scramble to the top of the highest peak in the park leads to an impressive view to behold. Once on the south side of Mt Norman a very fast and fun descent awaits with some possibilities to refill on the water that trickles down the mountain. This eventually takes you to the Mt Norman day use area and onto a pleasant run to the Old Stone Gate leading to the Old Stone Cottage, both monumental examples of extraordinary works in manual labour. 
After the Old Stone Cottage the run is relatively flat for a few km's then becomes rolling as you pass both West Bald Rock and Middle Rock, both impressive structures in their own right. Once at the very base of South Bald Rock, of which is very tempting to explore, the run becomes rather flat for the remainder of it. As a matter of fact, this is the halfway mark, and there is a net average loss in elevation for the second 15kms. For about 7kms you can get into an awesome rhythm and the time absolutely flies by. Eventually, you pop back out onto Mt Norman Road and run along this for just over 1000 metres until you reach the Creek Track trailhead, leading to Underground Creek, a great stop to refill on some refreshing creek water (a Befree water filtration unit is very handy on this run). Climbing out of Underground Creek and onto Pyramids Road is rather straight forward. It's once you get onto Pyramids Road, running back towards Castle Rock Campground, where you really feel the previous 27kms in your legs. However, views of the First and Second Pyramids helps you to quickly forget about your burning quads and you realise just how magnificent of a place and experience you just had a chance to be part of.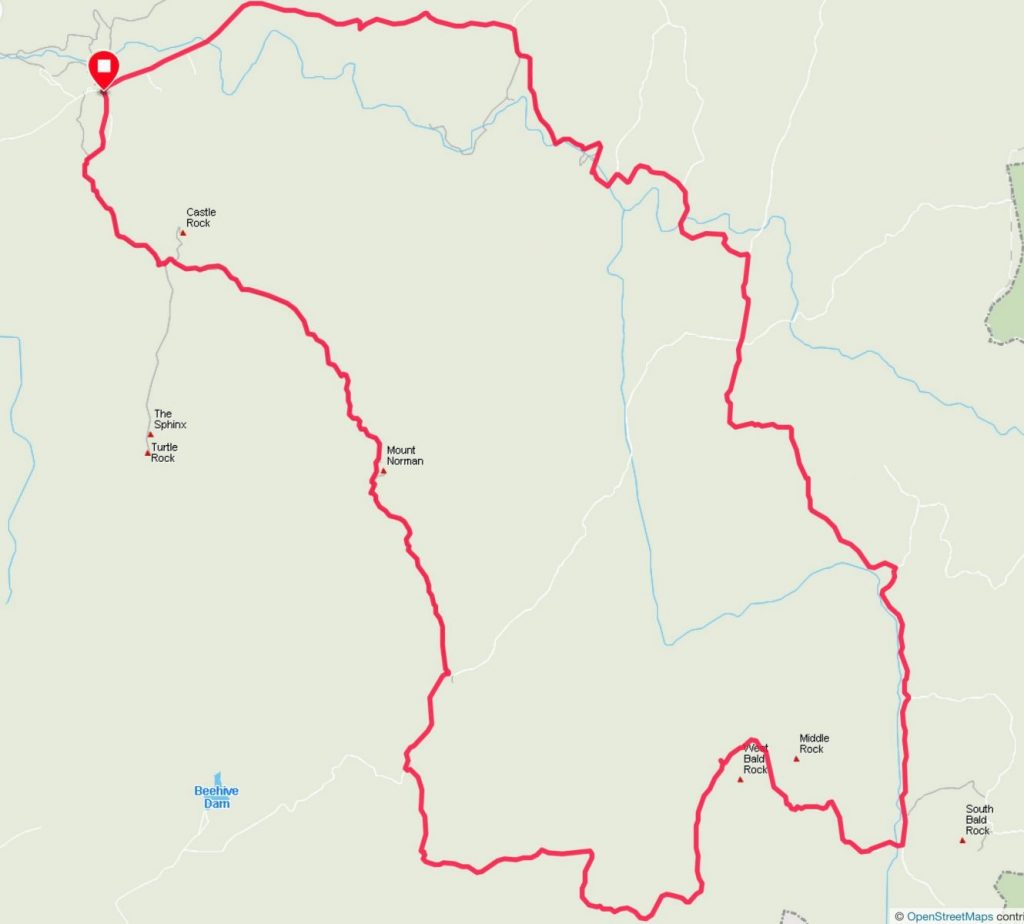 Footwear
La Sportiva Lycan's would be a perfect shoe choice since there are no loose, technical trail sections. The ample cushioning will help your legs feel a bit fresher, while the Frixion Blue, low height lugged rubber will be fantastic on the granite slabs.
Clothing
I've always been a fan of rather short, shorts. But this is very much personal preference and shorts can pretty much be used regardless of the time of year.
If it's summer or just either side of summer, you absolutely cannot go wrong with the Outdoor Research Echo Tee.
For winter, the Outdoor Research Sequence Top and Tantrum Jacket are my absolute favourite combination! When you're starting out, it's a long climb and you get warm very fast, but simply unzipping the Sequence and rolling up the sleeves will provide plenty of ventilation. Throwing on the Tantrum prior to the descent of Mt Norman (do this while reading the Eye of the Needle sign) over the Sequence will keep the wind off, and the merino of the Sequence will keep you warm even if a bit damp.
Hydration
If the park has had plenty of rain and it's not realy hot, you can easily use a single 500-600mL hand-held with a BeFree soft flask bottle in your running shorts. Water can easily be found at the back of Mt Norman, Dingo Swamp (a couple of KMs past the Old Stone Cottage), some just prior to West Bald Rock, and finally at Underground Creek. If there hasn't been much water, you can easily do water drops at the Mt Norman day use area and the Creek Track trailhead. 
If it's hot, water drops are still recommended, however, you'll also really want to have a hydration vest capable of holding a 2 litre bladder and 2x 500mL soft flasks with electrolyte out the front.